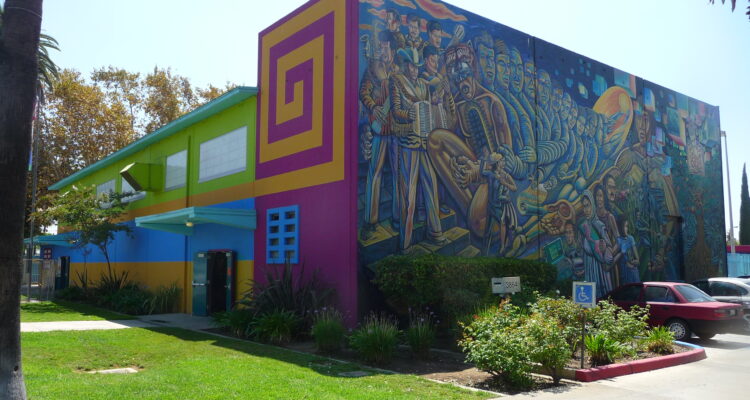 Place
Ruben Salazar Park
Laguna Park, now Ruben Salazar Park, was the terminus of the 1970 Chicano Moratorium march and the site where protesters and law enforcement first clashed.
On September 17, 1970, East Los Angeles's Laguna Park was renamed in honor of noted journalist Ruben Salazar, one of three individuals killed during the National Chicano Moratorium march on August 29, 1970.
Nearly 30,000 people marched that day from rotesters began the march on East Third Street in front of the East Los Angeles Civic Center (Civic Center) to Laguna Park in protest of the disproportionate number of Chicanxs who were dying in the Vietnam War.
Los Angeles County originally purchased the land for the park from Cedars of Lebanon Hospital in 1938. It was subsequently renamed Laguna Park in 1940 and has since grown to include basketball courts, a baseball diamond, tennis courts, a community center with a computer lab, and a senior center.
Laguna Park was a natural fit for memorializing Ruben Salazar because it was the gathering place at the end of the Chicano Moratorium route and the site where civil unrest first broke out. The LA County Sheriff's Department, hearing reports of petty theft at the nearby Green Mill Liquor Store, forcefully entered the park in search of the suspects and declared the peaceful and festive rally to be an unlawful assembly. The situation quickly escalated, resulting in over a hundred arrests, dozens of injuries, and three deaths, including Ruben Salazar, Angel (José) Diaz, and young Brown Beret Lyn Ward. 
Salazar Park continues to provide a variety of services to the local Latinx community. Today, it is well-known for the 2001 mural by Paul Botello, The Wall That Speaks, Sings, and Shouts. Located on a wall of the recreation center, the mural was commissioned by Mexican norteño band Los Tigres del Norte and portrays themes of resistance, immigration, scientific advances, family life, and key historical figures within the Chicanx community. The mural also includes a tribute to Salazar himself.  
On August 29, 2014, the County dedicated a plaque at the site in honor of Ruben Salazar.