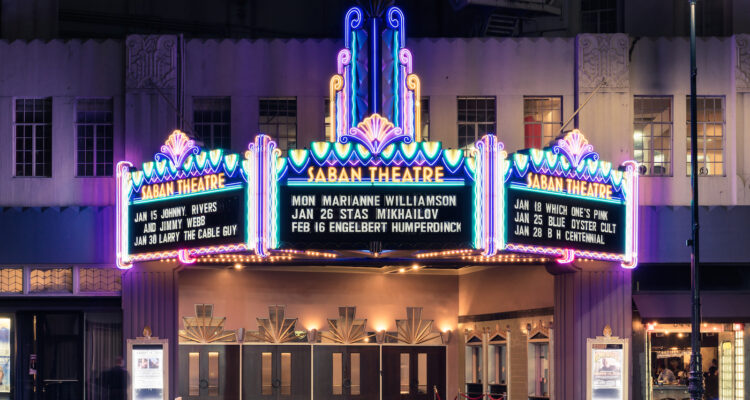 Place
Saban Theatre
One of the earliest theatre designs by the great S. Charles Lee.
The Fox Wilshire Theatre was the showpiece of this classic black-and-silver Art Deco building, which also contained commercial, residential, and office space.
The theatre was designed by renowned architect S. Charles Lee. One of the earliest of Lee's theatre designs (he would eventually design nearly 400), the Fox Wilshire opened September 19, 1930, just a few months before the January 1931 opening of the Los Angeles Theatre downtown, also designed by Lee.
Built for the Fox West Coast Theatres circuit, the Fox Wilshire hosted premieres of many important Fox films in the 1930s and '40s, beginning opening night, which featured the Marx Brothers in Animal Crackers. The theatre's wide proscenium allowed for an extra large screen, which later made it a natural for long runs of widescreen films such as The Sound of Music (1965).
The Fox Wilshire was designed in what is now known as the Art Deco style but was then often described simply as "modern." This style features strong geometric designs, stylized plant and animal motifs, and an accent on vertical forms.
Very contemporary in 1930, the design was complemented by a bold color scheme of silver, black, and coral along with plush pink carpets, which created a luxurious environment.
When it opened, Southwest Builder and Contractor called the 2,500-seat theatre "the ultimate in dazzling and daring." A vice president lived in the apartment at the top of the tower, under a tall neon Fox sign.
The theatre was converted to a stage venue in 1980. To better accommodate audiences during intermissions, the lobby was enlarged to include space that had formerly been rear orchestra seating. By that time, original silver-and-black stenciled designs that had completely covered the walls and ceiling had been replaced with a muted palette of contemporary colors.
In 2005, Temple Shalom for the Arts purchased the building and subsequently began work on restoring the theatre back to its original grandeur. Renamed the Saban Theatre in 2009, it is now used as a rental space for theatre, concerts, film shoots, and special events, as well as for religious services.
In 2012, the theatre was listed in the National Register for Historic Places. On May 8, 2013, the theatre was declared landmark #12 on the Beverly Hills Register of Historic Properties.