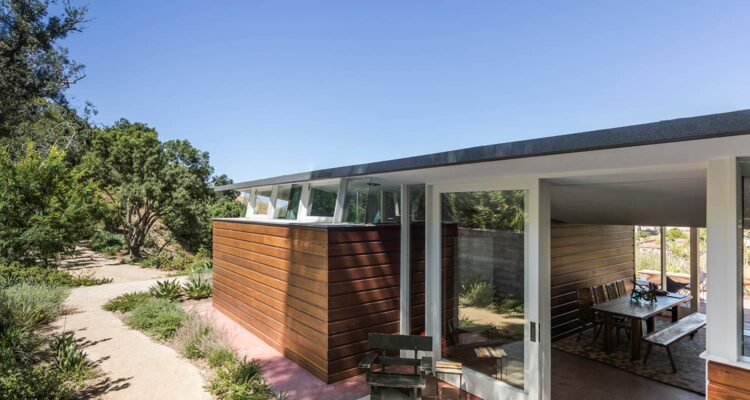 Place
Salkin House
Forgotten for decades, this "Lost Lautner" found a preservation-minded owner who restored it to its former glory.
Designed by master architect John Lautner, this 1,100-square-foot home in Echo Park was truly a hidden gem—it was forgotten for decades.
Jules Salkin met Lautner in the late 1930s at the Taliesin Fellowship in Wisconsin, where Lautner apprenticed with Frank Lloyd Wright. Salkin later commissioned the home from Lautner, and it was built in 1948.
The house is one of Lautner's early works. He didn't even have his architect's license yet when he submitted plans for the house; he had another architect sign them, which might have contributed to its legacy as the "Lost Lautner."
The two-bedroom hillside home features a striking butterfly roof. Instead of traditional construction methods, Lautner opted for wing-shaped structural bents at eight-foot intervals across the length of the home. Two rows of columns support the roof at the center, allowing it to float free from the glass walls.
In 1949, Salkin sold the home to the Maxwell family, which owned the home for decades. The Salkin House served as a rental property for many years, suffering from extensive deferred maintenance.
The public "rediscovered" the home in 2014, when the Maxwell family listed it for sale. Even Lautner experts were unaware of its existence: They had seen sketches but never knew of its construction.
In 2015, preservation-minded buyers purchased the home with the intent to restore its former glory.
The new owners faced major issues, such as poorly sealed glass connections that caused the home to flood when it rained. The home sat on a sagging foundation, further complicating the project.
Using Lautner's drawings as a guide, the project team replaced missing glass walls with sustainable glass and realigned the foundation.
They painstakingly removed incompatible alterations, such as flooring that covered the home's original red concrete floor. And thanks to modern technology, the team found a way to waterproof the house.
The team removed a 1960s bedroom addition, revealing the home's original carport. In doing so, they removed square footage from the home—a gutsy move in Los Angeles, where bigger means better.
The Salkin House exemplifies great stewardship; it's preservation done right. Bigger isn't always better, and this small home is proof. This project earned a Conservancy Preservation Award in 2018.