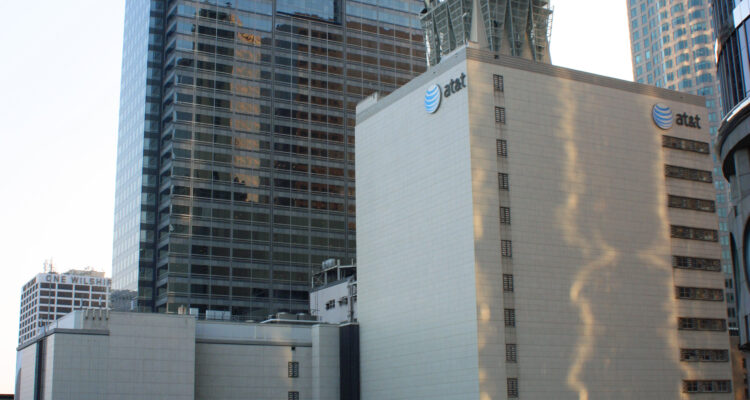 Place
SBC Madison Complex
The communications complex is composed of three buildings, but it is most recognizable for the the enormous steel microwave tower rising from the roof, an icon of mid-century technological might.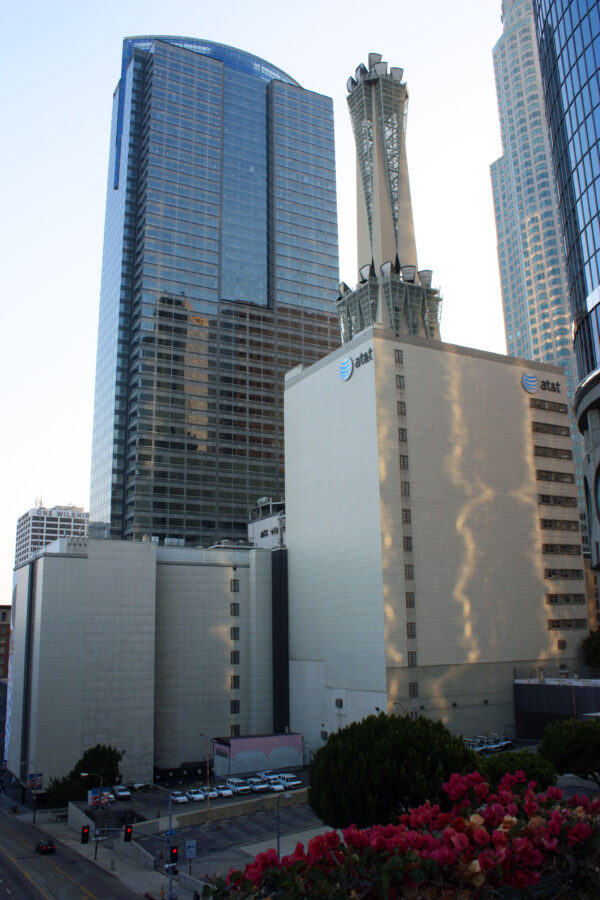 Upon its 1961 completion on Bunker Hill, the Pacific Telephone Communications Center became the tallest building in downtown Los Angeles. It achieved this distinction largely because of the enormous steel microwave tower rising from the roof, enabling the free lines of sight needed for telephone communications at the time.
The tower is one of three adjoining buildings in the communications complex, but it is the largest and the best known because of its microwave tower, an icon of mid-century technological might. It was the hub of telephone service throughout downtown Los Angeles and beyond.
Architects C. Day Woodford and Leonard Bernard designed the building in a clean Late Moderne style, with a mostly windowless exterior clad in white tile save for the black granite-clad entry. The tower didn't need a lot of windows, since it mostly contained telephone switching equipment with only a few offices. The existing windows, at the corners of the building, are accented by metal screens and unusual metal louver-like ornamentation.
The main entrance on Grand Avenue is marked by an enormous mosaic mural by Anthony B. Heinsbergen. The artwork, which commemorates the evolution of communications networks, incorporates parts of real telephone equipment and switches.
The microwave tower itself is the most eye-catching part of the building, transcending its straightforward functionality with a complex design of tile- and glass-clad steel beams with multiple platforms. It is a profound reminder that even the most revolutionary of today's technologies will someday be obsolete. At least this piece of obsolescence is beautiful.