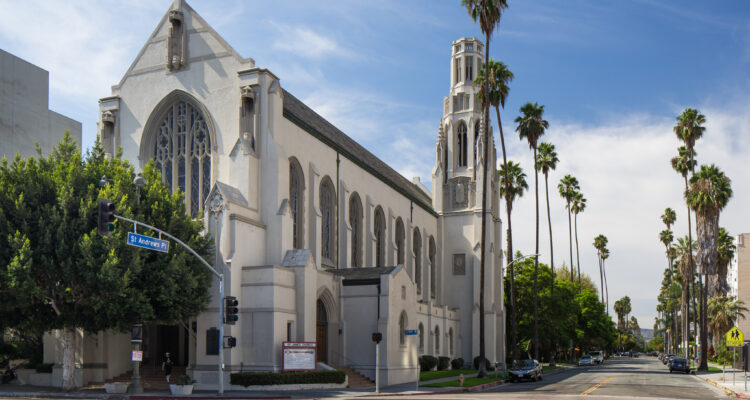 Place
St. James' Episcopal Church
Nat King Cole sang at the Easter service here in 1962, igniting a firestorm.
Noted Bay-area architect Benjamin McDougall designed St. James' in the Gothic Revival style popular for ecclesiastic architecture in the 1920s. 
He used reinforced concrete (as was used for other Wilshire Center churches) but coated it with a thin veneer of stucco to conceal the lines of the formwork used in construction.
The redwood ceiling beams and trusses are said to resemble the inside of a ship's hull, and the floor is paved with tiles bearing the same motif of an ancient cross as those at Immanuel Presbyterian Church a few blocks east.
The building features large amounts of richly colored stained glass, designed and installed by the renowned Judson Studios over many years.
The church also houses the rebuilt 1911 Murray H. Harris organ from St. Paul's Cathedral in downtown Los Angeles, built in 1889 and demolished in 1922 to make way for the Biltmore Hotel.
In 1962, at the height of his career, Nat King Cole was invited to sing a solo at the church's Easter service. The backlash from congregants was immediate and included the resignation of the reverend who had invited him, Robert Terwilliger. 
Just a few years later in 1965, Cole's  funeral took place at the church, attended by notable figures including Duke Ellington, Frank Sinatra, and Robert F. Kennedy.