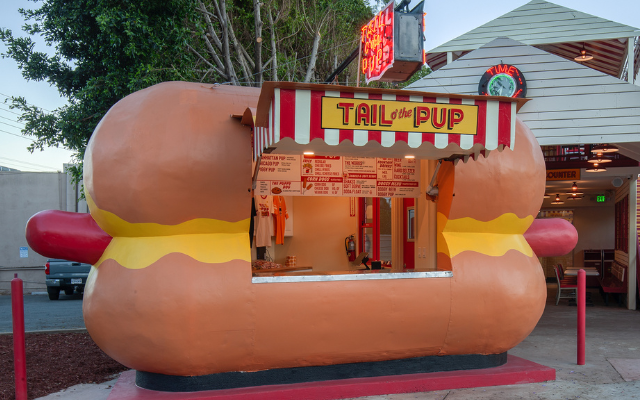 Place
Tail o' the Pup
One of the most classic examples of roadside programmatic architecture ever designed is back for a whole new generation of Angelenos to enjoy!
The Tail o' the Pup is a true L.A. icon and one of the most iconic examples of roadside architecture ever designed. First opened in 1946, L.A.'s legendary "Tail o' the Pup" hot dog stand has been immortalized in pop culture by celebrities and artists for more than 76 years.
The whimsical, charming replica of a huge hotdog encased in a bun was first established in 1946 during the golden age of L.A. car culture. Then-famous dance team Frank Veloz and Yolanda Casazza commissioned the design from skilled architect Milton J. Black in 1939. The large frankfurter became famous as it worked its way into publicity photoshoots and movie set design. As a functioning hot dog stand in the 1940s, it served community patrons of the carnival-like Beverly Park Kiddieland (now the site of The Beverly Center), one of the sources of inspiration behind Disneyland.
When Kiddieland was demolished, Tail o' the Pup was taken over by owner Eddie Blake in 1976, and in 1986 it was relocated to a second address on San Vicente Boulevard. Perhaps its most famous location, celebrities continued to flock to the Pup—among them Sigourney Weaver, Betty White, Devo, the Go-Go's, Aaron Spelling, and Andy Warhol. After a few changes in ownership across several decades, the hotdog itself was painted differently about five separate times. Eventually, the final color palate was chosen to replicate the most iconic moments and memories, a decision primarily based on archival photos throughout time.
The new building located on Santa Monica Boulevard required steel, wood, and plaster restorations to maintain the integrity of the building. When Tail o' the Pup closed in 2005, the family moved it into storage, hoping to find a new location, and many Angelenos worried about its future. In 2018, the 1933 Group took on the task of bringing it back, acquiring both the brand and original building with the goal of returning it to its original purpose. Proper restoration required a mix of welding in metal fabrication and stucco repair, and a vital location was scouted only blocks away from "The Pup's" original site. The new spot—part of a building once used as a studio for L.A. rock band The Doors—allows for inside and upstairs seating and opened in 2022.
This loving restoration and rehabilitation of an iconic piece of L.A. architecture earned a Preservation Award from the Conservancy in 2023.
2023 Celebration Video
The L.A. Conservancy celebrated the 2023 Preservation Awards winners at the historic Television City in Hollywood with a video showcasing their stories. The program celebrated their hard work, dedication, and achievement. We're thrilled to share Tail o' the Pup inspiring story with you.