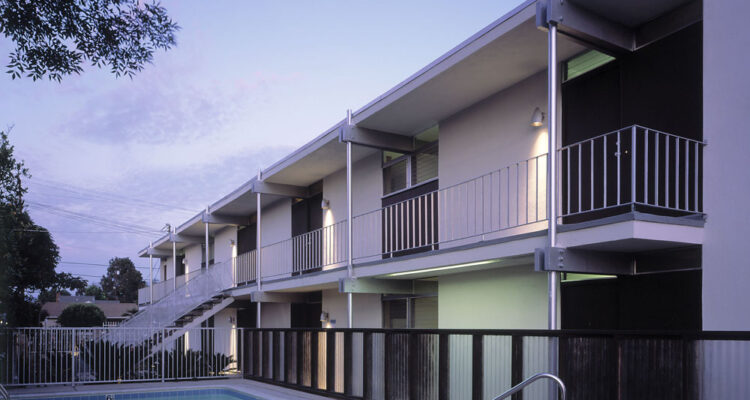 Place
The Poster Neutra
This rare example of multi-family housing designed by Richard Neutra received a Conservancy Preservation Award in 2007.
"People think I only design homes for the rich, but the promise of my architecture is housing for the masses; I'll take your commission." 
So replied Richard Neutra to David and Grace Porter in the late 1950s. The young couple had asked the modernist master to design a modest apartment building in a working-class neighborhood in North Hollywood. 
Despite its small size and budget, the eight-unit Poster Apartments elegantly incorporated Neutra's hallmarks of expansiveness, interior openness, and integration with nature. 
After forty-five years of use, the building had fallen into severe decline when purchased in 2005. A team including Neutra's original project architect set out to restore the apartments with the express goal of keeping them affordable, as Neutra had originally intended. 
Historic features were restored, the original color scheme was identified and replicated, and a new pool was built inside Neutra's original. 
In addition to renewing a rare example of modernist multifamily housing, the project proved that even in a white-hot real estate market in which historic structures are marketed as development sites, it is financially feasible to preserve our existing multifamily housing stock. 
Now called the Poster Neutra, the restored building provides quality, efficient, beautiful homes, serving as a tangible reminder of the promise of Mid-Century Modernism.