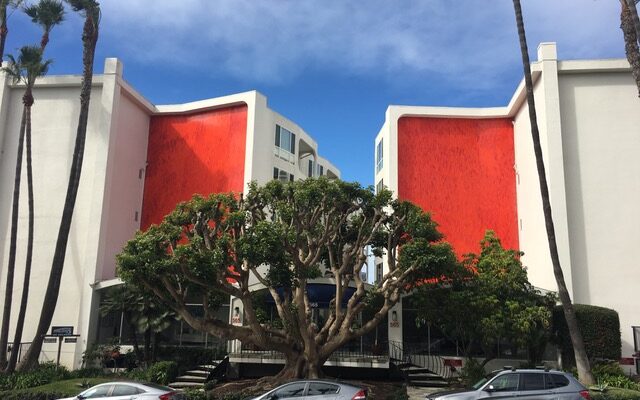 Place
The Surfrider Condominiums
Built in 1970, The Surfrider was the first high-rise development on the Redondo Beach Esplanade.
Designed by visionary South Bay architect Bill Burchfield, AIA. When constructed, The Surfrider was the first residential high rise on the Redondo Beach Esplanade.
The Surfrider was designed for the Bri Jed Company in 1968 and completed in 1970. Sitting directly on the bluff overlooking the beach the development was originally built as luxury apartments. However, after a year, the building was converted to condominiums in 1971 by the Butler Housing Corp. 
Built during the late Mid-Century Modern period, The Surfrider was inspired by the surfing culture of California. Burchfield's love of the beach lifestyle emphasized designed his structure with floor to ceiling windows, open floor plans, and a unique curvilinear balcony design that provided every unit having a beach view. 
Orange Metlox Pottery tiles cover the majority of the two building's primary facades.  Originally designed with 2' x 4' tiles, Metlox Potteries was unable to manufacture the large-scale tiles. As a result, construction utilized the 4" x 6" bright orange tiles seen today.
Boasting the Gold Medallion Home Award for a total electric home, The Surfrider originally featured electric fireplaces and fully electric kitchens.  
The complex houses 64 units split between two five-story buildings with parking below. In the center of the complex is a courtyard that allows direct beach access for the units.
The success of The Surfrider as Redondo's first high-rise development on the Esplanade marked the beginning of a development boom that converted parcels of single-family homes into multi-story high rises.