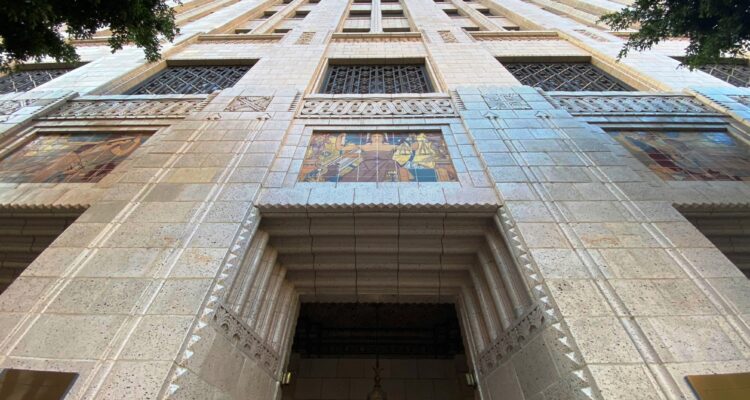 Place
The Trust Building
When the Title Insurance and Trust Building opened it was called the "Queen of Spring Street" due to its great size. In 2020 it reopens as The Trust Building following a full rehabilitation.
On June 14, 1928, the Title Insurance and Trust Company opened their headquarters in this Art Deco-style building. Title Insurance and Trust Company's offices were originally located on the first through fourth floors, and included a recreation room, cafeteria, and medical facilities for employees, as well as a 250-seat auditorium. The company's executive offices were on the tenth floor.
Due to its great size (over 300,000 square feet), the building was once known as the "Queen of Spring Street."
The exterior features a brick and terra cotta facade with recessed vertical strips of windows, molded terra cotta balconies at the second-story level, plus zigzag, floral, and geometric patterns. Over the front entrance are three 4x8-foot polychrome tile murals depicting allegorical figures in Greco-Roman garb that symbolize Trust, Protection, and Fidelity. Artist Hugo Ballin designed the tile murals. Ballin is known for his notable murals inside several other L.A. landmarks, including Wilshire Boulevard Temple (1929), the CalEdison Building (1931), and the Griffith Observatory (1935). 
Title Insurance and Trust Company remained at this location until 1977, when they relocated to the Miracle Mile. Over the years, the building has served a number of purposes, including a design center, garment manufacturing, film shoots, and special events. From 1989 to 1993, the building served as a library after a fire greatly damaged the Los Angeles Central Library.  
In early 2020 the owner, Rising Realty Partners, completed a full rehabilitation of the building which includes restoration of key, decorative features. When fully leased, it will house retail and restaurant space onthe ground floor with creative office space on the upper floors. Learn more at thetrustbldg.com.