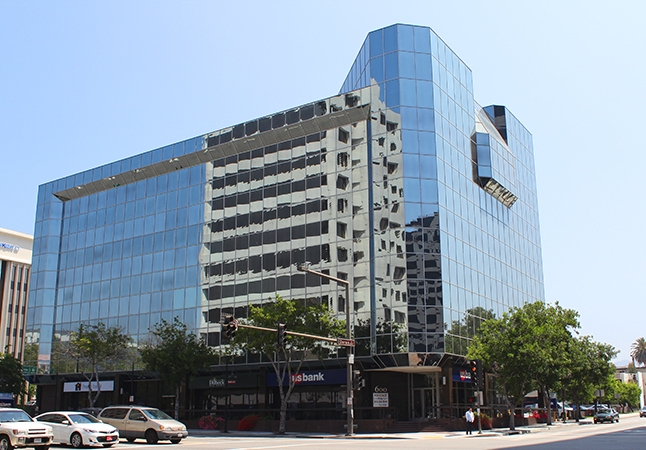 Place
U.S. Bank Glendale
This graceful Late Modern bank building transcends the standard corporate glass-box design of the 1970s.
When Glendale's Fidelity Federal Savings and Loan moved from an office on Broadway to its new building on Brand Boulevard in 1976, it did so in style. The company hired architects Krisel/Shapiro & Associates to design a high-rise to house their corporate headquarters as well as banking services, with the added consideration that energy conservation be a priority.
William Krisel and Abraham Shapiro designed a six-story office building in the Late Modern style, covering it in mirrored glass and aluminum. According to the Los Angeles Times, the cladding brought about a 44% heat reduction. Other energy-saving features included efficient lighting fixtures and a heat-transfer air conditioning and heating system.
The Fidelity Federal building (now used by U.S. Bank) represents a lesser-known building type for William Krisel, who is best known for his seminal Mid-Century Modern tract housing designs. But Krisel also designed a number of commercial buildings, high-rise apartments, and condominiums, particularly during the period of his partnership with Shapiro.
Like his earlier residential designs, Krisel's 1970s work reflected his emphasis on innovative yet affordable design. Krisel and Shapiro's design for Fidelity Federal illustrates how effective this approach could be. In this case, it just happened to result in a graceful Late Modern bank building that goes beyond the standard corporate glass box design.