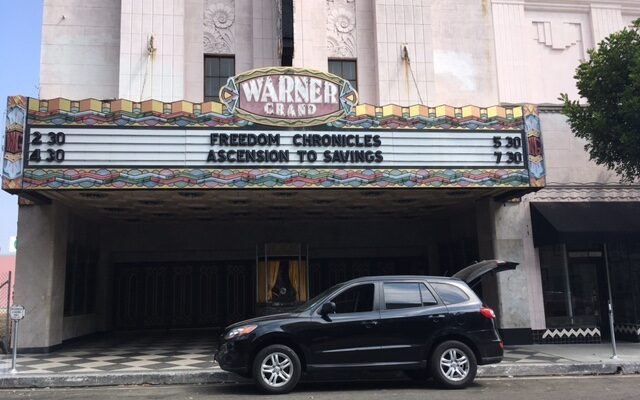 Place
Warner Grand Theatre
The Warner Grand Theatre features a Classical Moderne façade and an ornate Art Deco interior.
Originally known as the Warner Bros. Theatre, the Warner Grand Theatre opened on January 20, 1931. Situated in downtown San Pedro adjacent to the bustling Port of Los Angeles, the theatre provided a glamorous refuge during the dark days of the Great Depression. 
Studio mogul Jack Warner called it the "Castle of our Dreams."
The Warner Grand Theatre was designed by noted architect B. Marcus Priteca and features a Classical Moderne façade with elongated chevrons and classic floriform detailing. The theatre interior was designed by Antoon (Anthony) B. Heinsbergen and featured grand, wood-carved ceilings with a copper, gold, and silver sunburst design, Art Deco tile and lighting fixtures, and ornate wall tapestries.
The Warner Grand Theatre went through numerous incarnations over the years, including the San Pedro Theatre (1937), the Stanley Warner San Pedro Theatre (1956), the Warner Theatre (1957), and the Stanley Warner Theatre (1959). In the 1970s, the venue became a Mexican film house called Teatro Juarez. During this period, changes to the opulent interior included covering the plush velvet seats in red, green, and beige vinyl as an homage to the Mexican flag.
In the 1980s, the theatre was renamed the Warner Grand, and in 1982, it was designated City of Los Angeles Historic-Cultural Monument #251. The City of Los Angeles purchased the theatre in 1996 and runs the space as a rental venue. The theatre was added to the National Register of Historic Places in 1999.
Today, the Grand Vision Foundation, a non-profit organization dedicated to the preservation of the theatre, helps to program the theatre and provide support for ongoing restoration efforts.