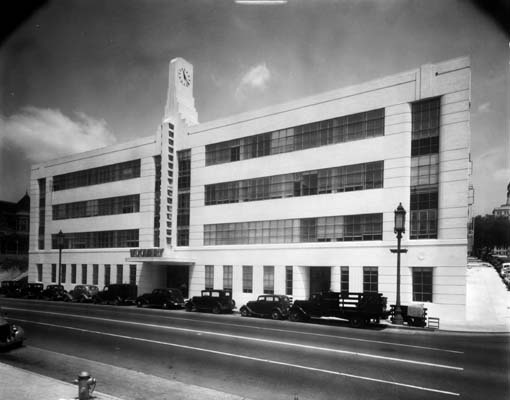 Place
Woodbury College (Demolished)
A beautiful Streamline Moderne design by Claud Beelman.
Founded in 1884, Woodbury College was one of the first institutions of higher education to offer an accelerated program for students who wanted to earn a degree in a concentrated format.
When the college moved to its Wilshire location in 1937, its monumental building designed by Claud Beelman was one of the most imposing structures on the boulevard.
Nearly a decade before, Beelman had designed the turquoise terra-cotta-clad Eastern Columbia Building and the Ninth and Broadway Building, both of which remain downtown Art Deco landmarks. He would go on to design many of Wilshire's modern buildings, including the international headquarters of Occidental Petroleum in Westwood.
His Streamline Moderne design for Woodbury College incorporated contrasting vertical elements, including a central pylon that served as a moderne interpretation of a clock tower.
In 1987, Woodbury College moved to Burbank, and the former Wilshire location was demolished.