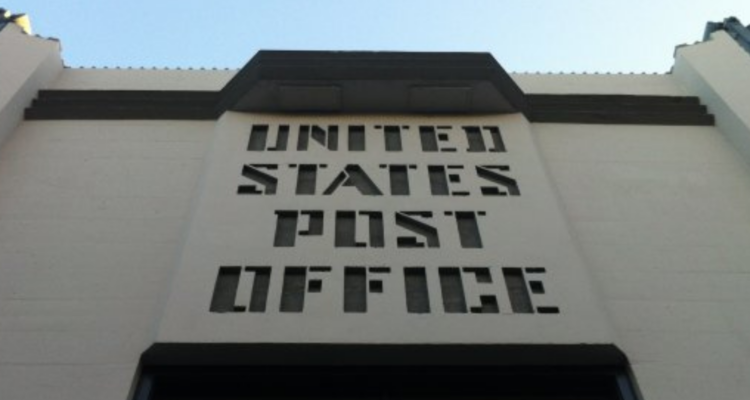 Resolved
Historic Post Offices
Despite continued public outcry, post offices around the country remain slated for closure, placing many historic buildings and community anchors at risk.
Resolved
Issues that may have resulted in imperfect outcomes, but still display significant progress
Overview
On April 17, 2014, the Advisory Council on Historic Preservation (ACHP) issued the following report, "Preserving Historic Post Offices: A Report to Congress." Read the report for key findings and recommendations to improve the process.
While not every post office is historic, for those that are – in Culver City, Santa Monica, South Gate, and Venice, for instance – federal law requires the U.S. Postal Service (USPS) to abide by national preservation laws (Section 106 of the National Historic Preservation Act) and ensure their long-term preservation through some form of enforceable restriction or condition put in place before the disposal and sale of the building.
Well over one hundred post offices in California and nearly thirty in Los Angeles County (not all are historic) have been slated for either closure or relocation by the USPS. The Conservancy has learned a lot about this issue, and we stand ready to help community members who want to take action.
For more than two years Conservancy staff had been focused on the sale and disposal of historic post office facilities, primarily in Venice and Santa Monica. Our goal had been to ensure meaningful protection and preservation for these civic buildings following sale and transfer of ownership into private hands. As a nationwide issue, California has been a focus as the United States Postal Service (USPS) has been particularly aggressive in closing or relocating facilities here.
In March 2014, the Conservancy participated in a convening in Oakland of a historic preservation working group by the ACHP. Members convened and took testimony to hear how well the Federal Section 106 historic preservation review process has been working to date and to discuss speciic challenges in California.
Our comments at the convening focused on two primary challenges encountered through our advocacy efforts with the Venice and Santa Monica post offices: the USPS's inconsistency in conducting the Section 106 process and its failure to adequately address long-term protection for historic post offices before they are sold.
If you have a historic post office in your community that faces closure, please contact the Los Angeles Conservancy at info@laconservancy.org. Also, the National Trust for Historic Preservation has recently launch a new site and resource for historic postal facilities, SOLD: America's Historic Post Offices.
About This Issue
Los Angeles-area post offices are increasingly under scrutiny and facing possible closure and sale. With an annual operating deficit of more than $8.5 billion, the United States Postal Service (USPS) is calling for the closure of nearly ten percent of its 32,000 post office facilities nationwide. This translates to more than a hundred sites in California—around thirty in Los Angeles County, a number of which are in historic buildings.
Fortunately, many examples exist of historic post office structures successfully adapted for new uses in ways that maintain their historic character and integrity. One of many examples is the Washington, Missouri post office. Yet a unique challenge for some of these buildings—including the Venice Post Office—lies in the interior murals or sculptures commissioned for post offices as part of the New Deal.
Between 1934 and 1943, approximately eight hundred (nearly a third) of historic USPS buildings were adorned with such artwork. The federally funded arts initiative responded to the Great Depression by creating jobs and boosting morale.
Even if USPS sells a building, it will still own the artwork inside it and must provide reasonable public access. If the USPS cannot negotiate an agreement with the new owner regarding the artwork, the USPS must remove and reinstall it elsewhere.
The Conservancy and others anticipate that this is only the first wave of closures, with more historic post offices targeted in the near future. We strongly encourage communities to stand up for their historic post offices, and we stand ready to help.
Our Position
The Conservancy believes that the USPS' process to date for disposing of historic properties is inherently flawed. The National Trust for Historic Preservation agrees, naming "Historic Post Office Buildings" to its 2012 list of America's 11 Most Endangered Historic Places.