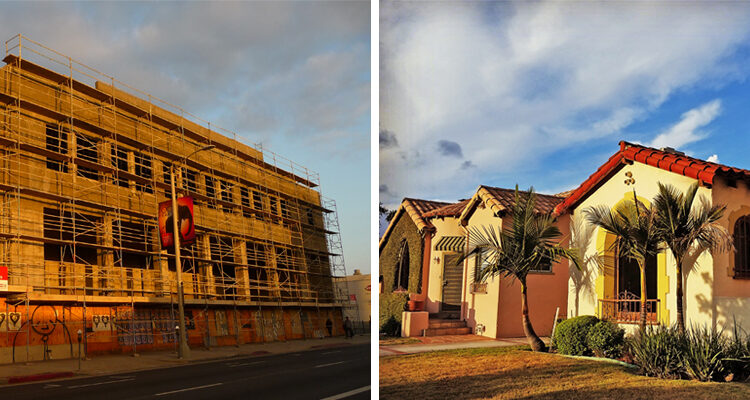 Resolved
Senate Bill 50
As of January 30, 2019, Senate Bill 50 (SB 50) failed to receive enough Senate support to proceed.
Resolved
Issues that may have resulted in imperfect outcomes, but still display significant progress
Issue Details
Development Approval Process
SB 50 has been placed on the "Second Reading File" for January 28 and may proceed to a floor vote as early as Wednesday, January 29
Overview
On Wednesday, January 29, SB 50 did not receive enough votes to pass out of the California Senate. Again, on January 30 a second effort to get the votes failed and SB 50 does not move forward. 
On January 28, the Conservancy and a statewide coalition of historic preservation organizations, led by the California Preservation Foundation, formally came out in opposition to SB 50, unless amended. 
Why is SB 50 bad for historic preservation?
This will undoubtedly result in the demolition of important historic buildings and damaging the livability of existing and future historic districts. Presently it is the Conservancy's most-pressing threat to our historic places. If passed, the bill would automatically increase zoning densities and building heights for residential developments within a specific distance from certain types of major transit. It poses a significant and immediate threat to older and historic neighborhoods by circumventing local planning laws, and by exempting parts of development projects from discretionary review.
Despite amendments to the SB 50 legislation in early January, no substantive language was included to address our outstanding historic preservation concerns. If passed, this bill severely weakens existing protections for historic places. The legislation is also inconsistent throughout the bill, as it does not uniformly identify or call out local, state and national listed individual and multiply property historic districts. Nor does it recognize eligible historic resources.
The current language and version of SB 50 is especially problematic as it recognizes historic districts, but only those established through the end of 2010. This means nine of L.A.'s thirty-five Historic Preservation Overlay Zones (HPOZ) were not covered and at risk because they were established since 2010. It is unclear why the year 2010 was selected as a cutoff date, though we are aware that Senator Wiener, the bill's lead author, does not want to open the "flood gates" to communities designating districts as a way to avoid the legislative mandate afforded through SB 50.
On January 17, California Senate President pro Tempore Toni G. Atkins (D-San Diego) issued the following statement on moving SB 50 from Appropriations Committee into the Rules Committee:
"I believe there is a good faith effort being made to enable California to reach SB 50's goals of building more affordable homes that increase access to jobs, reduce the time people have to spend in their cars, and help meet California's climate change targets. To help ensure these conversations continue, I asked the Senate Rules Committee to pull SB 50 back from the Appropriations Committee prior to the January fiscal vote deadline. While many communities still have clear concerns about SB 50, our affordable housing crisis demands we make every attempt to reach an agreement on potential solutions. I hope the additional time afforded by this action contributes to the ongoing efforts being made by Senator Wiener, housing advocates, and community leaders."
In a previous statement on his website, Senator Portantino, Chair of the Appropriations Committee, said,
"SB 50 is a well-intentioned effort to help solve our state's housing crisis and it highlights two valid ways to affect land-use decisions across the state: providing incentives or legislating mandates. My preference has always fallen on the side of incentives for local governments to accomplish goals. There were legitimate concerns expressed from both large and small cities about the scope of SB 50 as it pertained to bus corridors, historic preservation, the definition of 'jobs rich' neighborhoods and whether it would increase gentrification and discourage light rail expansion as unintended consequences; all of which justified the pause established today by the committee. My colleague from San Francisco is one of the smartest and most earnest legislators in the capitol. He cares deeply about the housing crisis and I expect him to continue to pursue his goals. Hopefully, we provided the opportunity to broaden the conversation, which can result in a more targeted legislative effort."
About This Issue
Over forty percent of Los Angeles is estimated to be impacted by this legislation. In certain neighborhoods the impact could be tremendous, for instance, with fifty-seven percent of land in Boyle Heights and sixty percent of land in the Silver Lake affected. Check out this blog from Urban Footprint which includes greater analysis and mapping of how California cities will be impacted, including Los Angeles.
Density and historic preservation are not mutually exclusive or an either/or. Approximately 6% of the city of Los Angeles has been identified as historic (through designation and by SurveyLA), which leaves 94% available for development and increased density. SB 50, however, is a blunt instrument that takes away a community's ability to plan thoughtfully.
Many concerns surround this legislation. For preservation it has the ability to impact historic preservation overlay zones (HPOZ) and neighborhoods currently eligible but not yet designated. For the third year in a row the Los Angeles City Council has formally come out against this type of legislation, as over-reaching into local authority. Councilman Paul Koretz has called the bill a "handout for developers," resulting in the destruction of historic districts and single-family neighborhoods.
To learn more and see how SB 50 actually impacts Los Angeles, Urban Footprint provides a great website and mapping tool.
Senate Bill 50  (SB 50) is intended to ease perceived land use barriers to increase density and streamline the production of multi-family housing development statewide. If passed, SB 50 would override local land use restrictions, allowing multi-family buildings to go up near "high quality" train and bus stops. This will facilitate the construction of four- to five-story residential projects in areas currently limited to single-family development. The Conservancy is pressing for preservation safeguards in the legislation, as part of a statewide coalition led by the California Preservation Foundation.
SB 50 is in follow-up to SB 827 legislation introduced in 2018 that ultimately failed to get out of committee. The focus is on neighborhoods surrounding "high-quality" transit stops. SB 50 defines a "high-quality" transit station as any served by rail and by buses with certain headways, including headways of 6 to 15 minutes during rush hour (6 to 10 a.m. and 3 to 7 p.m.).
Our Position
While the intent of providing more housing may be good, the bill and its approach is highly problematic. It poses a one-size-fits-all solution and a blunt, statewide fix that would outstrip local authority and planning. It also does not recognize the diversity of development statewide, let alone throughout Greater Los Angeles.
As part of a statewide coalition of preservation organizations, the Conservancy has requested amendments to the SB 50 to ensure adequate preservation safeguards (ensuring reviews and possible exemptions) to protect structures and districts placed on, or that have been identified by a public agency as eligible for, inclusion on a national, state, or local historic register.
The Conservancy wants to ensure that the revised bill language will not impose a one-size-fits-all approach and unnecessarily harm California's historic resources and potentially entire neighborhoods.
How You Can Help
Thank you to the residents of the Spaulding Square Historic Preservation Overlay Zone (HPOZ) for making this great video! Here and in neighborhoods all over Los Angeles residents are pressing Governor Newsom and the state legislature to consider impacts to older neighborhoods and balance with efforts to address the affordable housing crisis.