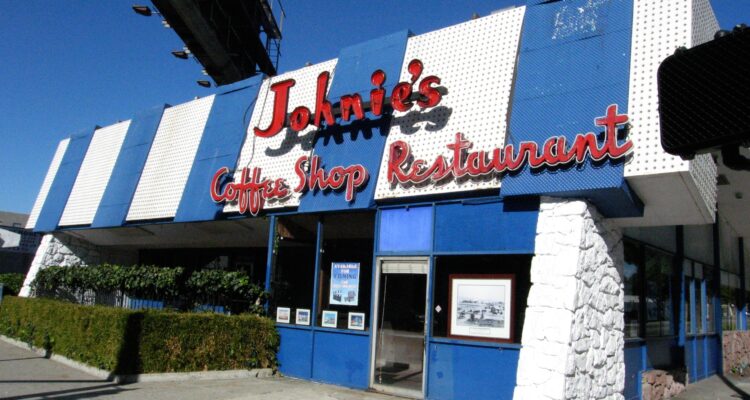 Place
Johnie's Coffee Shop
Built in 1956, Johnie's is one of L.A.'s finest examples of Googie architecture popular in the 1950s and '60s and stands as an irreplaceable reminder of L.A.'s postwar period.
The beloved Johnie's Coffee Shop was designated a Historic-Cultural Monument (HCM) in 2013.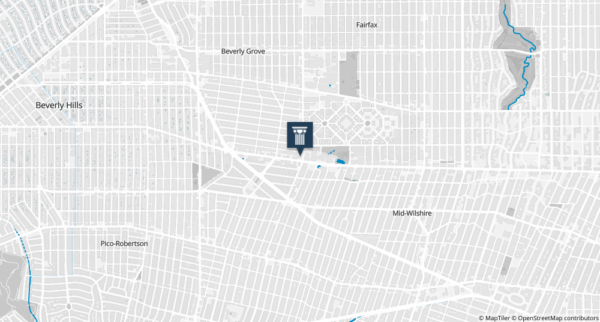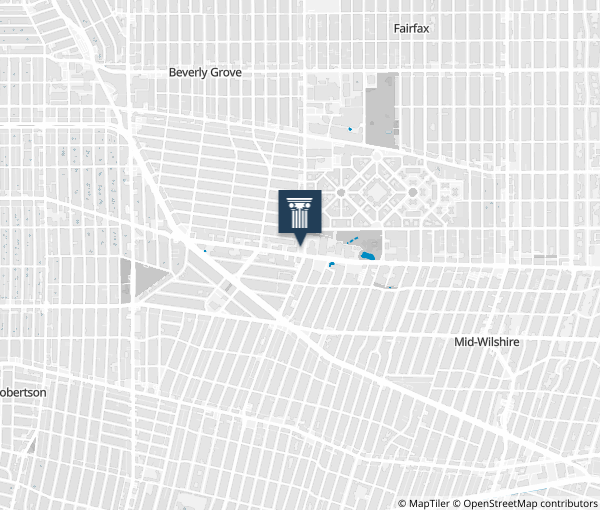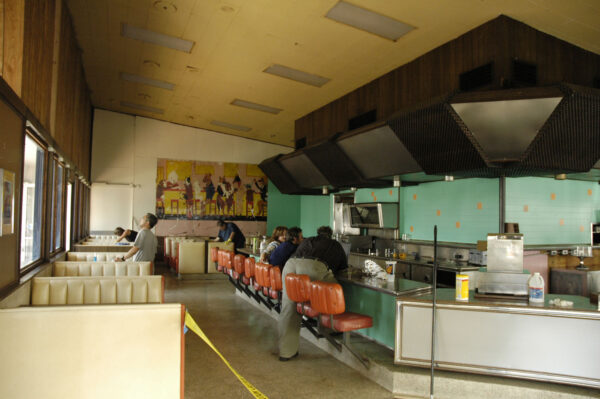 Overview
At the corner of Wilshire Boulevard and Fairfax Avenue stands one of Los Angeles' finest examples of the Googie architectural style popular in the 1950s and '60s: Johnie's Coffee Shop. The building was designed by famed architects Louis Armet and Eldon Davis.
Plans for a new Metro station at Wilshire and Fairfax prompted concern about the building's future. The L.A. Conservancy successfully nominated the building as a Historic-Cultural Monument in 2013.
About This Place
About This Place
Johnie's is a proud Googie icon: its sharply angled, striped-front roof, huge neon sign, and glass walls declaring its Modern heritage. It is a cheerful and irreplaceable reminder of the massive changes that took place in Los Angeles during the postwar period, as the community became an automobile metropolis that aspired to be the city of the future.
The restaurant was built in 1956 as Romeo's Times Square, later became Ram's, and then became Johnie's in 1966. The business operated continuously until 2000. In the past decades, it has become a prominent filming location and was the Los Angeles headquarters for Bernie Sanders' presidential campaign in 2016 and 2020.
Armet and Davis designed hundreds of buildings in Southern California but are best known for their Googie coffee shop designs, which used space-age decorative elements, dramatic rooflines, glass walls, and bright signage to attract passing motorists. Among their surviving iconic Googie designs in Los Angeles are Pann's in Ladera Heights, Norm's on La Cienega Boulevard, several Bob's Big Boys, and the corporate prototype for Denny's buildings built in the 1960s. Many others were lost as the optimistic postwar style fell out of popularity.
Our Position
The Conservancy nominated Johnie's as a Historic-Cultural Monument in response to the Metropolitan Transit Authority's (Metro) plans to purchase, or require a construction easement for, Johnie's to facilitate staging for the construction of a new Wilshire/Fairfax station. While Metro acknowledged the significance of Johnie's, landmark designation ensures that it receives strong protection from demolition and inappropriate alterations in the future.
The Conservancy worked closely with Johnie's owners, the Gold family (founders of 99cents Only Stores), and their representatives to garner support for the HCM nomination. We will continue working together to address the long-term preservation of Johnie's.
The nomination was prepared by architect and author Alan Hess, whose books Googie and Googie Redux are considered the seminal guides on Googie and California coffee shop architecture. Hess also wrote the essay Everyday Modernism, featured on our Curating the City: Modern Architecture microsite