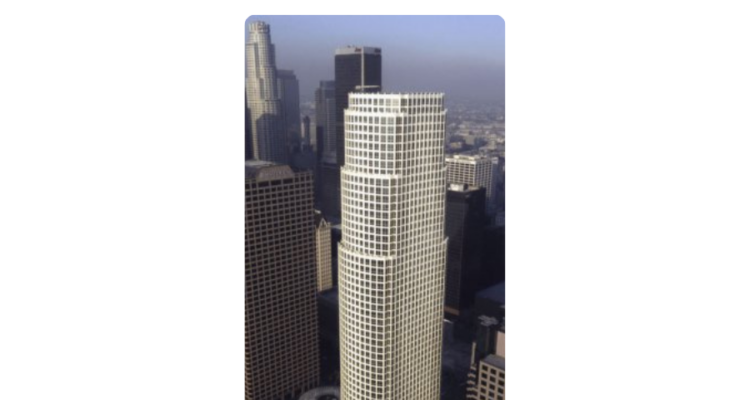 Place
777 Tower
One of downtown's most graceful high-rise office buildings, the 777 Tower designed by Cesar Pelli effortlessly pierces the downtown skyline with subtle articulation and detail.
The 777 Tower, rising from the corner of South Figueroa and West Eighth Streets, is the seventh-tallest high rise in Los Angeles and by all rights should look like a hulking mass of a building. Instead, it is a light and graceful tower of glass and off-white steel, effortlessly piercing the downtown skyline with subtle articulation and detail.
Designed by renowned architect Cesar Pelli, the fifty-three-story building was completed in 1990 and set a new standard for downtown's commercial architecture.
It epitomizes the Postmodern use of a stretched skin style with reimagined classical details in a simple and elegant design. The tower is bowed on the east and west sides, and the piers between windows are wider at the center of these elevations than at the edges, emphasizing the curves and accentuating the vertical force of the design. Each pier, acting as an exaggerated mullion between windows, is made of a pair of round semi-cylinders divided by a sharp rectangular fin. The piers are nearly sculptural in nature and serve to manipulate the changing light, generating patterns of highlights and dark shadows along the length of the tower.
In 1990, Pelli said he tried to create "a poetry of precision" in the design, in homage to Southern California's postwar tradition of high-tech industries like aerospace. The result is one of downtown Los Angeles' most graceful high-rise office buildings.