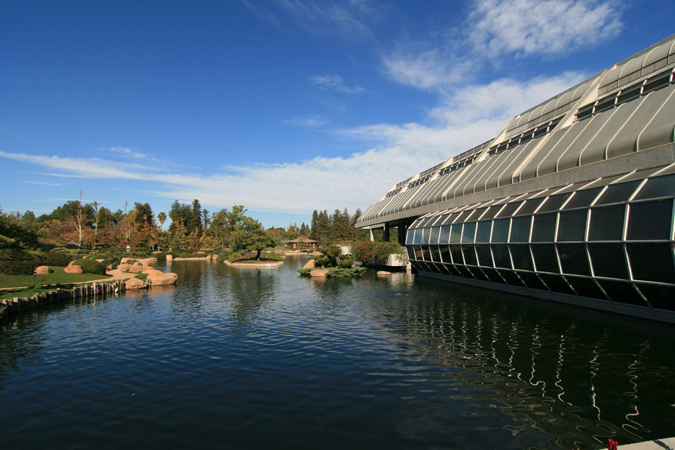 Place
Donald C. Tillman Water Reclamation Plant & Japanese Garden
Regarded as the finest work of architect Anthony J. Lumsden, the plant's futuristic building rising from its traditional landscape has been featured in numerous films and television shows.
If the Donald C. Tillman Water Reclamation Plant in Van Nuys looks familiar to you, there's good reason—it's been used as a shooting location for numerous films and television shows, including several of the Star Trek canon. It's easy to see why, since the complex's main administration building is a beautiful and very futuristic-looking design cantilevered out over a man-made lake.
It was designed by architect Anthony J. Lumsden of Daniel, Mann, Johnson and Mendenhall (DMJM), and is widely regarded as his finest work. The plant was completed in 1984 to relieve the burden of processing wastewater from the San Fernando Valley, and it fundamentally changed the way the Department of Water and Power viewed its architectural legacy.
After its construction, the DWP resolved to continue fostering facility designs that were aesthetically pleasing as well as functional.
The plant's main building is a series of concrete curves and sloped metal surfaces that evoke a feeling of the form being extruded from the structural members. Its lines are complemented by the lake beneath it and by the traditional Japanese garden landscape below. Designed by Koichi Kawana, the publicly accessible garden is irrigated with reclaimed water from the plant. The effect of the futuristic building rising from the traditional landscape is strangely harmonious, not to mention cinematic.