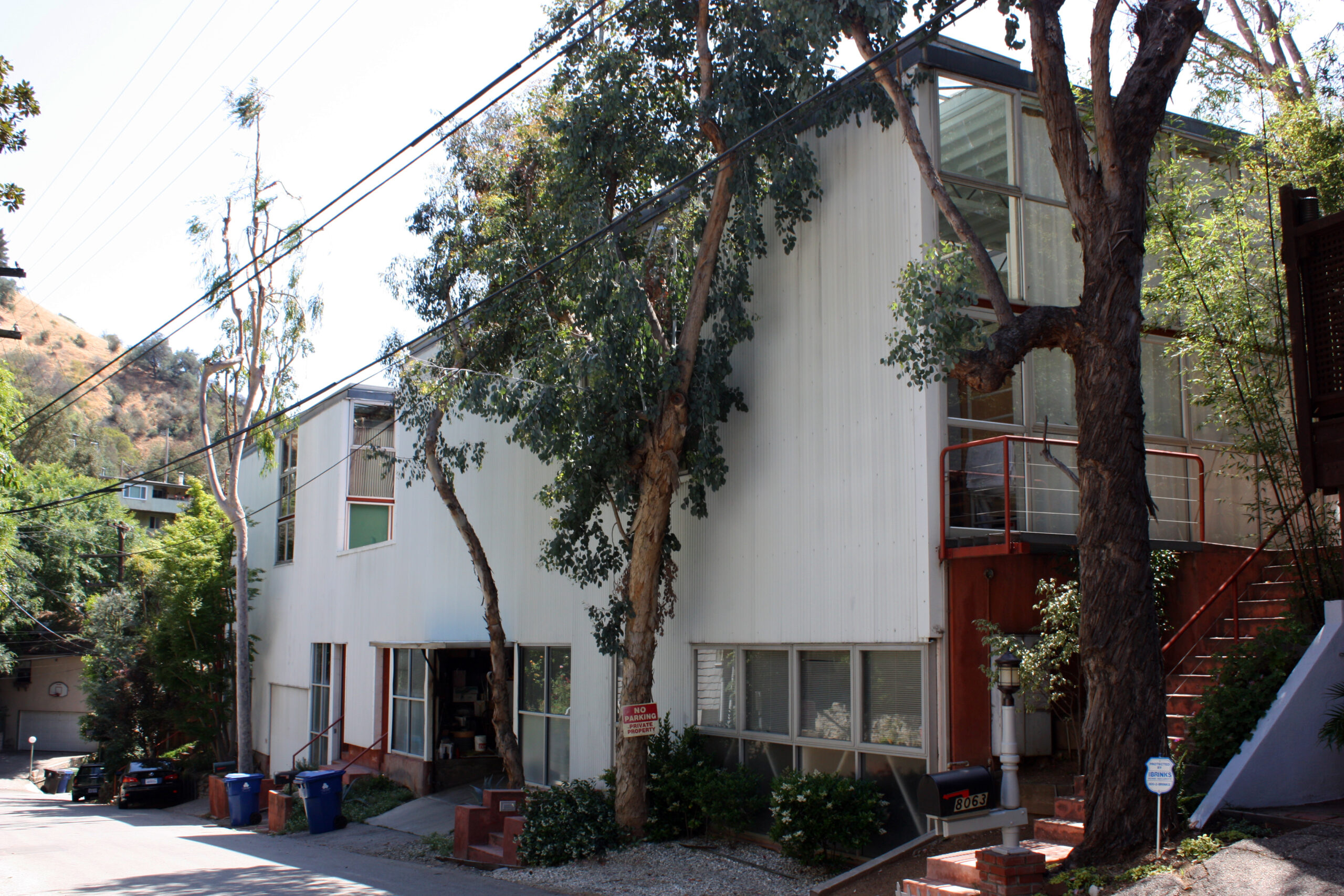 Place
de Bretteville-Asimow Houses
A stunningly engineered pair of houses belonging to two close families who chose to live cooperatively.
Taking a cue from R. M. Schindler's Kings Road house, the de Bretteville-Asimow Houses in Laurel Canyon were designed as living and working spaces for two close families—but in a High-Tech, industrial style. Architect Peter de Bretteville designed the houses for himself, his wife Sheila, and their friends the Asimows, as they all wanted to live cooperatively.
The two-story houses appear nearly identical from the exterior, with the same steel beam structure, cladding of corrugated metal and fiberglass, and rear façade of huge glass windows opening onto the common garden. The houses' front façades are plain, with only a few windows and topped by skylights, so the houses look like unassuming industrial buildings (albeit in a heavily wooded residential neighborhood in a canyon). They are cut deeply into a west-facing slope, and are accessed by a common landing.
In contrast to all the exterior similarities, the homes' interiors are quite different, each tailored to the individual occupants with different room arrangements and finishes.
All of the structural elements are visible and uncovered, lending the interiors an industrial feel softened by the open views out to the greenery beyond. Cantilevered balconies and fabric stretched from vertical elements control exposure to the sun, lending an interesting three-dimensional element to the glass-walled rear façades. The de Bretteville-Asimow Houses are a fantastic example of the possibilities of Late Modern design, and update modern ideas in a way that likely would be appreciated by R. M. Schindler himself.