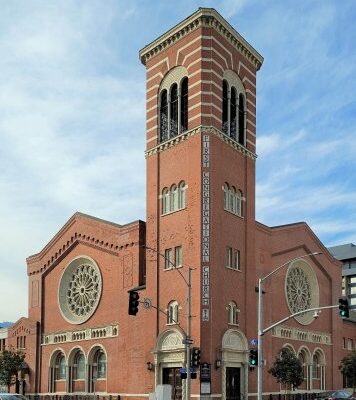 Place
First Congregational Church of Long Beach
The repair and restoration of the stunning façade of this century-old center of spiritual and civic activity have galvanized both the congregation and community pride.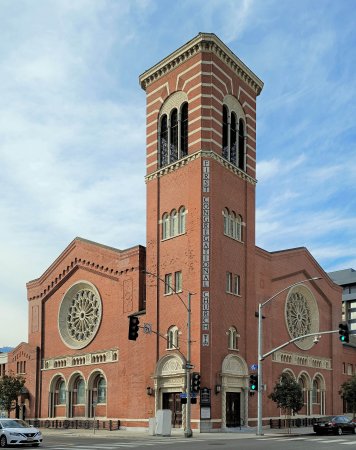 Located in the heart of downtown Long Beach, the First Congregational Church is a striking example of Italian Romanesque Revival. Founded with donations and land endowments from the Bixby family, it was designed by architect Henry M. Patterson and features a 110-ft., tall corner tower, a green mission tile roof, patterned tapestry brickwork, and leaded and stained-glass windows, including three large traceried rose windows.
First Congregational has dominated the downtown neighborhood for over 100 years, and throughout that time, the historic integrity and religious use of the building have been retained and protected. It was landmarked in 1979 and added to the National Register of Historic Places in 2012.  At the same time, the congregation itself is a robust and liberal center for religious worship and social activity.
Having sustained seismic shock damages from various earthquakes over the years, including the Northridge Earthquake of 1994, as well as saltwater ingress and other structural issues,  an effort to repair and restore the exterior was undertaken in 2019. The detailed architectural and engineering design were successful, and only the most damaged materials were replaced with new matching elements.
The repair and restoration of the exterior and the spectacular Rose Window galvanized the congregation and resulted in gratitude from community members for protecting the city's heritage. The work won a Preservation Award from the L.A. Conservancy in 2023.
2023 Celebration Award
The L.A. Conservancy celebrated the 2023 Preservation Awards winners at the historic Television City in Hollywood with a video showcasing their stories. The program celebrated their hard work, dedication, and achievement. We're thrilled to share First Congregational Church of Long Beach inspiring stories with you.