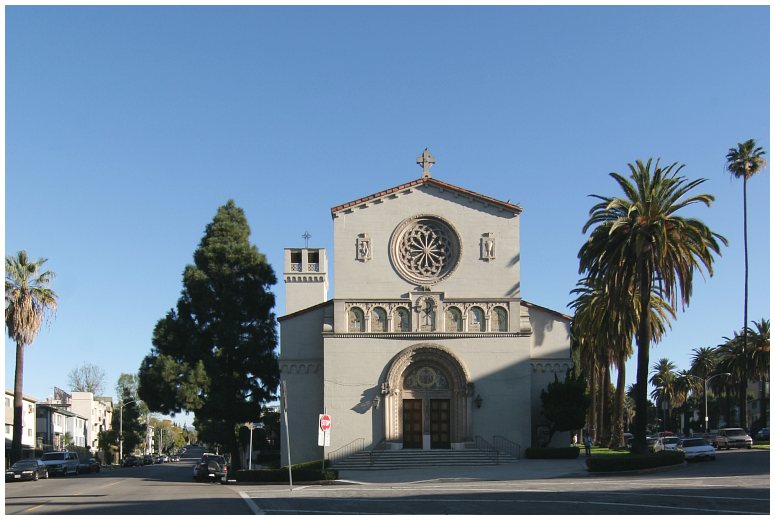 Place
Precious Blood Catholic Church
An absolute jewel box filled with art, including mosaics by Millard Sheets.
In response to the rapid growth of the Westlake area in the 1920s, the parish of Precious Blood was culled from the large congregations of St. Basil's to the west and Immaculate Conception to the east.
The original building was designed by Truesdale & Newton in 1924 and completed by Newton & Murray in 1926. The continuous addition of artwork to this glorious Italian Romanesque building has resulted in a jewel box of sculpture and mosaic.
The spectator portal, rimmed by cast ornament, has an elaborate tympanum mosaic. Between the entrance doors is a unique sculpture of Christ by Salvatore Scarpitta (designer of the facade sculpture at St. John's Episcopal Church and the Pacific Coast Stock Exchange). The architects divided the facade with a course of blind arcades and balanced the portal with a delicate rose window.
Due to the swampy soil, the church rests on 150 concrete piles driven 22 feet into the ground. The concrete walls are hollow wherever possible to reduce the weight on the pilings.
Inside, opulent mosaics depicting the Stations of the Cross were added in 1933.
In 1951, noted architect Wallace Neff added a parish hall at the rear of the property and remodeled parts of the church interior. Neff also commissioned the brilliant Venetian apse mosaics by Millard Sheets, which feature angels catching the precious blood of the crucified Christ.