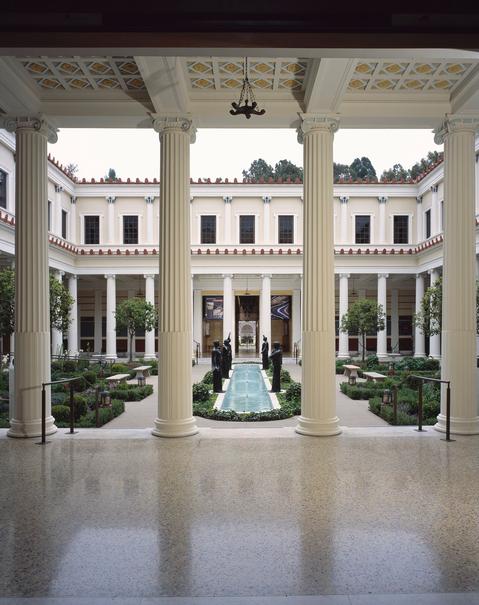 Place
Getty Villa
When J. Paul Getty opened his Getty Villa in 1974—making his collection of Classical artworks available to the public—he felt certain the building should evoke a Classical design. The reviews were mixed.
When billionaire oilman and art patron J. Paul Getty opened the Getty Villa in 1974, he made his vast collection of Classical and Renaissance-era artworks available for public viewing. While the collection was met with rave reviews, opinions about the building that housed them were decidedly mixed. Getty felt strongly that art of the type in his collection should not be viewed in a neutral or Modern-style museum setting, but was better served by a building that evoked Classical traditions.
He hired architects Robert Langdon and Ernest Wilson to design the museum in consultation with Stephen Garrett and Norman Neuerburg, and they created a re-imagining of Herculaneum's Villa dei Papiri, a Roman villa buried in the eruption of Mt. Vesuvius in AD 79. As much of the original villa remains unexcavated, Neuerburg looked to other ancient Roman houses to complete the details of the new design. The result is unquestionably grand: a two-story building with a 300-foot-long peristyle of Doric and Corinthian columns surrounding a landscaped courtyard with a reflecting pool, Roman-style plantings, and bronze statues.
Its interior galleries are likewise opulent, with fine stone wall finishes and shining terrazzo floors. Some critics likened the museum to examples of Los Angeles' more grandiosely mimetic architecture, from Forest Lawn to Disneyland, bemoaning its lack of authenticity and retrograde architectural vision. But the public loved it, and other critics held it up as an example of populist, even Postmodern design. More than one pointed out the environmental appropriateness of a Mediterranean design for the Southern California coastal location.
Between 1997 and 2006, the Getty Villa underwent a major renovation by architects Rodolfo Machado and Jorge Silvetti, seeing modifications to its site plan, landscaping, and buildings. The museum now houses only Greek, Roman, and Etruscan art, with the rest of Getty's collection now housed at the massive Getty Center in Brentwood.