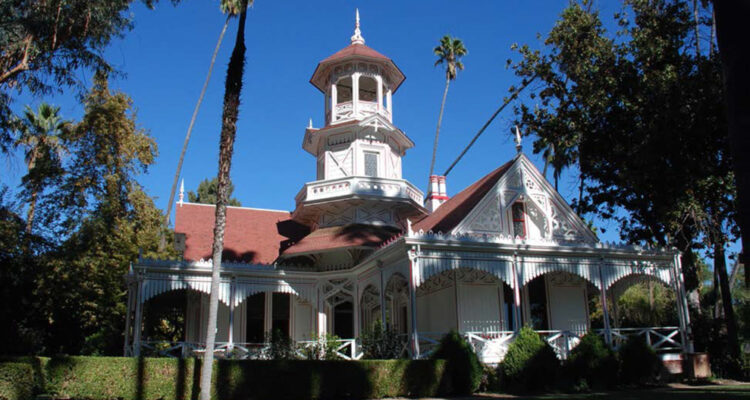 Place
Los Angeles County Arboretum & Botanic Garden
The Arboretum's Cultural Landscape Report and Treatment Plan provides a vital guide for caring for the wide range of resources on this historic site.
2017 Recipient, Royce Neuschatz Award for Historic Landscapes
Cultural Landscape Report and Treatment Plan
Project Team
Owner: Los Angeles County Arboretum & Botanic Garden
Project Lead: Historic Resources Group
Architect: Kelly Sutherlin McLeod Architecture
Landscape Architect: kornrandolph, Inc.
Historic Consultant: Sandy Snider
---
The Los Angeles County Arboretum & Botanic Garden is a 127-acre public garden and historic site in Arcadia. The land was owned by Arcadia's founder and first mayor, prominent businessman Elias Jackson "Lucky" Baldwin, from 1875 until his death in 1909. 
In 1947, the State of California and the County of Los Angeles jointly purchased the land to create an arboretum for public use. The purchase included Baldwin's former guest house (1885), now known as the Queen Anne Cottage at the Arboretum; the Carriage Barn; and the Don Perfecto Hugo Reid Adobe (circa 1840). These historic structures remain today; both the Queen Anne Cottage and the Carriage Barn are listed in the National Register of Historic Places, and the Hugo Reid Adobe is a California Historical Landmark.
Architect Harry Sims Bent produced a Master Plan for the Arboretum in 1950, which organized the property into distinct planting sections. Landscape architect Edward Huntsman-Trout contributed to some of the individual landscape designs. 
Mid-Century Modern service buildings were added in the 1950s and 1960s, including the award-winning administration building by Allison & Rible. The Arboretum opened to the public in 1955, and since then countless visitors have enjoyed the beautiful gardens and historic buildings. 
The Los Angeles County Arboretum and Botanic Garden is governed through a public/private collaboration between the County of Los Angeles and the Los Angeles Arboretum Foundation. In 2015, the Arboretum produced a Cultural Landscape Report and Treatment Plan (CLRTP) to guide the stewardship of the historic botanic gardens and significant buildings.
The report summarizes the history of the site, allowing for greater understanding of how to identify and protect these resources. It also recommends treatment methods for the site's range of significant resources, which will ensure continuity and diligent care in the coming years. The report earned a Conservancy Preservation Award in 2017 for its proactive approach.
As part of this project, the entire landscape and built environment was surveyed, and the Arboretum was determined as eligible for listing in the National Register of Historic Places as a historic district. All contributing buildings, structures, and landscape features were documented and evaluated. With this information, County administrators are now well-equipped to maintain, protect, and adapt the Arboretum's diverse resources over time.
The National Park Service recommends the use of cultural landscape reports to guide proper documentation and treatment of historic landscapes, yet few stewards of historic landscapes use them. The Los Angeles County Arboretum & Botanic Garden's CLRTP is an exemplary document that serves as a model for botanic gardens nationwide.