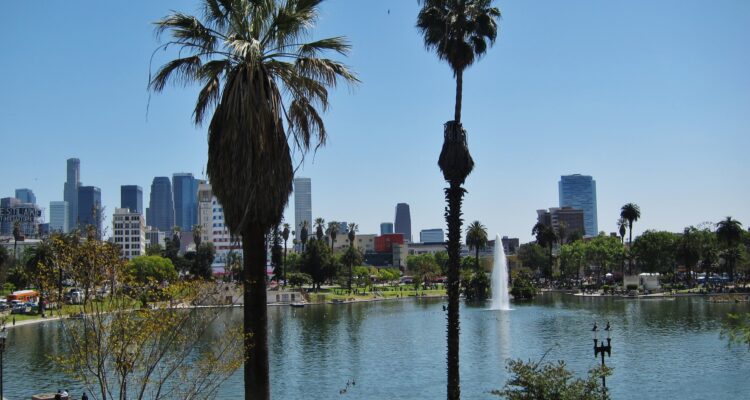 Place
MacArthur Park
This park near downtown went from a mudhole, to a tony recreation spot, to a vibrant place of music, art, and community.
In the 1880s, the City of Los Angeles received a thirty-five-acre mudhole and refuse dump in a land swap with George S. Patton Sr., father of the World War II general.
Generous application of fertilizer and sweat turned the eyesore into Westlake Park, a handsome civic asset. A boating lake attracted visitors to Westlake Park, then on the remote west side of the city. It became a popular recreation spot.
Wilshire Boulevard began at the west edge of the park in 1895, and for almost thirty years the park blocked traffic from continuing into downtown. 
On December 7, 1934, a viaduct across the park connected the original length of Wilshire Boulevard with the last leg of Wilshire going into downtown.
In 1942, the name was changed to MacArthur Park for Army General Douglas MacArthur, through the influence of newspaper publisher William Randolph Hearst, who thought it might boost his presidential ambitions for General MacArthur.
By the mid-twentieth century, MacArthur Park had become a well-known cruising site within the LGBTQ community and formed the backdrop to a significant legal challenge in 1952.
In 2007, Levitt Pavilion MacArthur Park opened, providing the community with free music and entertainment.