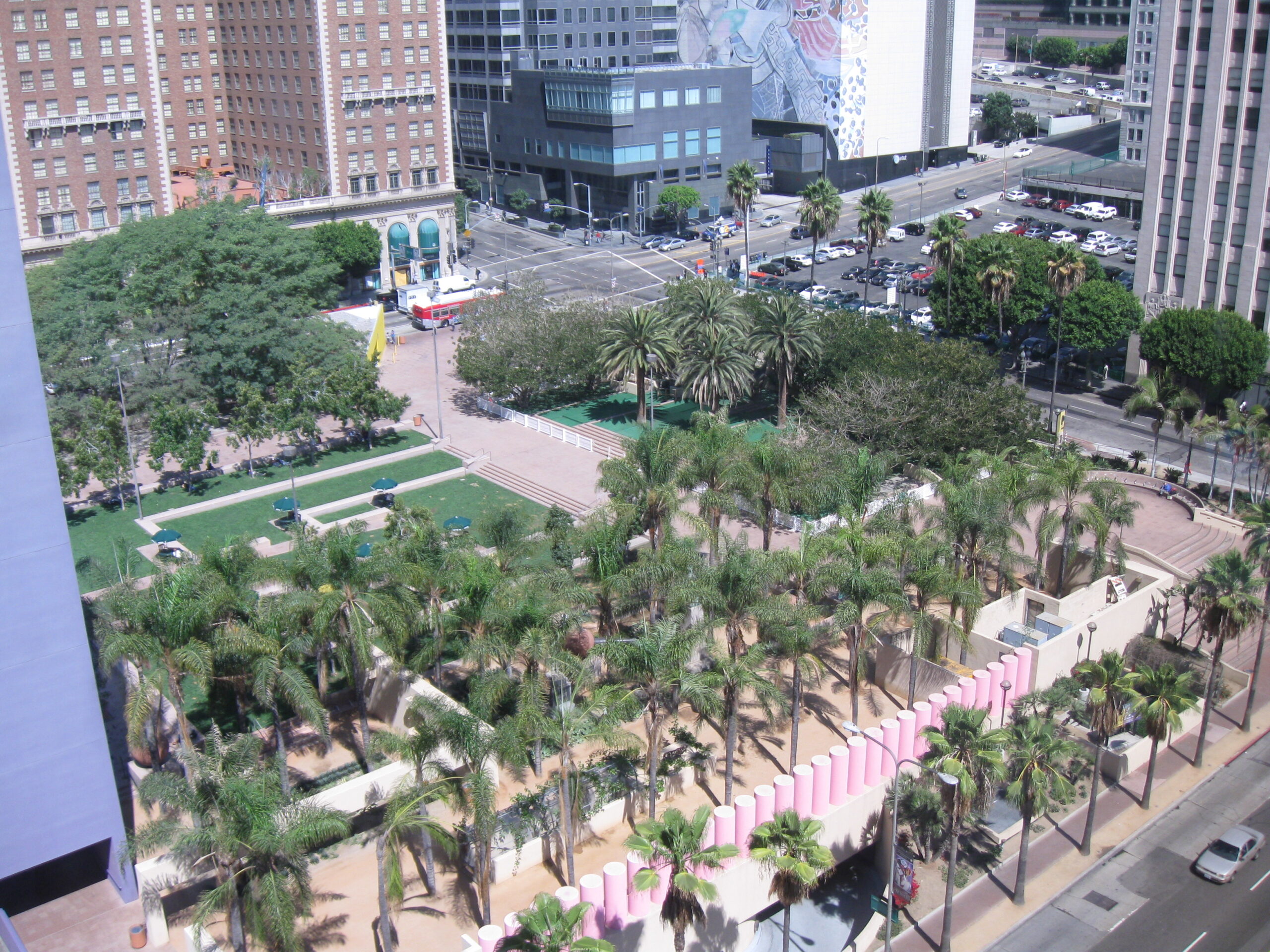 Place
Pershing Square
Five acres whose ownership can be traced back to 1781 when Spain granted them to the City of Los Angeles, Pershing Square has undergone myriad design changes, the most recent in 1993.
The five acres that make up Pershing Square are original pueblo lands whose ownership can be traced back to 1781, when Spain granted them to the City of Los Angeles. In 1866, the area was set aside as a public park known as La Plaza Abaja ("The Lower Plaza"). Improvements, including the planting of cypress and citrus trees, were made to the park in the 1870s. In the 1880s, city engineer Fred Eaton created the park's first offical layout. During Los Angeles' real estate boom of 1910-11, architect John Parkinson redesigned the park in a formal Beaux Arts style. In 1918, one week after the end of World War I, the square was renamed in honor of General John Pershing, commander of the American armed forces overseas.
From the 1920s through the 1960s, Pershing Square anchored the 5th Street corridor known as "The Run" because of its close proximity to gay friendly establishments and cruising areas.
Nearby bars included If Cafe and the Open Door, The Grand Avenue Bar at the Biltmore Hotel, and the Standard Hotel. In addition to Pershing Square, other cruising sites included nearby subway terminal bathrooms and the Central Library. Pershing Square's relatively open and tolerant social atmosphere attracted large numbers of gay and bisexual men, though women tended not to gather there. In addition to cruising, the park provided activists with a place to discuss social issues.
Over the ensuing decades, a variety of design changes were made to the square, most notably the addition of an underground parking garage in 1951. As a result, the lush landscaping that had characterized the park for the last eight decades was removed. Trees were placed into planters, and small flowerbeds were installed. While the changes facilitated the construction of the parking garage, the removal of dense folliage also functioned as a form of crime deterrent, as homosexual sexual contact at this time was illegal in many cases. 
With access ramps to the garage effectively cutting off the park from the surrounding area, the square gradually fell into disuse and disrepair throughout the 1960s and '70s. In 1984, it was cleaned and replanted for the Olympics, but it was almost a decade later when the square received a full facelift. This current design is a collaboration between architect Ricardo Legorretta, landscape architect Laurie Olin, and artist Barbara McCarren. The design includes a number of works of public art that allude to the city's history, such as groves of orange trees, a stylized earthquake fault, and a fountain inspired by the aqueducts that bring water to Los Angeles.