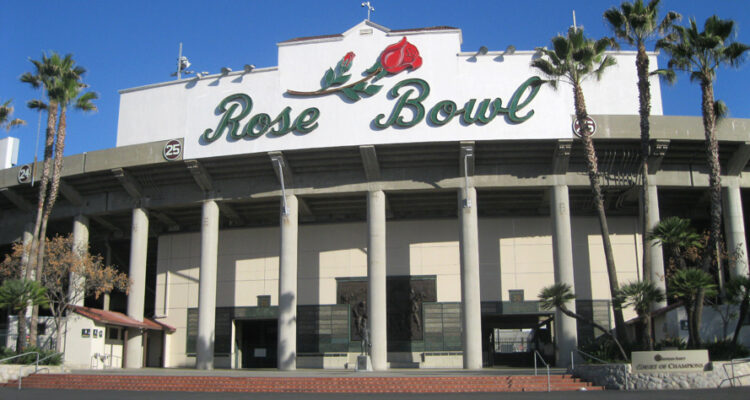 Place
Rose Bowl
The beloved stadium's creative and sensitive rehabilitation proves the viability of historic sports venues, an increasingly endangered species.
Pasadena's Rose Bowl embodies many things, including the growth of football as an American pastime and what a small town can achieve with civic commitment and investment. It also proves how a highly threatened type of historic structure can serve modern needs, and be economically viable, without losing its authentic character.
Renowned architect (and longtime Pasadena resident) Myron Hunt designed the Rose Bowl using elements of classical Greek and Roman theaters and stadia, as well as contemporary venues in the U.S.
Built in 1922, the Rose Bowl held the first post-season college football "bowl" game. The Tournament of Roses football game takes place each New Year's Day and inspired the other bowl games throughout the country. The Rose Bowl hosted Olympic events in 1932 and 1984, World Cup soccer, and five Super Bowls, among other major sports events.
The venue also hosts UCLA Bruin football, concerts, religious services, filming, and a massive flea market. Known as "America's Stadium," the Rose Bowl is beloved by sports fans and others around the world. In 1987, it was listed as a National Historic Landmark, the highest level of historic designation in the U.S.
Over more than eighty years, the Rose Bowl suffered from incompatible alterations, deferred maintenance, and a lack of modern amenities that drew fans elsewhere. For decades, its continued viability was a political and financial challenge for the City of Pasadena.
In the early 2000s, the City considered bringing a National Football League (NFL) team to the Rose Bowl—and with it, significant investment in the structure. Yet the remodel that the NFL proposed would have completely altered the stadium, likely costing the venue its status as a National Historic Landmark (which happened to Soldier Field in Chicago). Pasadena residents rejected the NFL plan through a ballot measure.
An alternative plan took shape that would revitalize the stadium while maintaining its NHL status. Launched in 2007, the project upgraded amenities, improved public safety, updated systems and infrastructure, reversed insensitive alterations, and enhanced operations. It widened the tunnels, cutting exit time nearly in half. Historic arroyo walls were reinforced with new foundations. Concessions and restrooms were expanded.
High-definition video boards and advertising signage meets current expectations of fans and provides ad revenue, yet its restrained design respects the historic structure. A new pavilion/press box offers premium services and broadcast facilities in a freestanding, reversible addition. All this work—and much more—took place over six years, as the stadium continued to operate, without cancelling a single scheduled event.
This series of creative, subtle adjustments—versus major reconstruction—modernized an icon while adding long-term revenue streams that improve the Rose Bowl's economic viability. The project serves as a model for historic stadia elsewhere, which are increasingly threatened with demolition. The Rose Bowl now shows millions of fans worldwide that preservation works. This project earned a Conservancy Preservation Award in 2018.