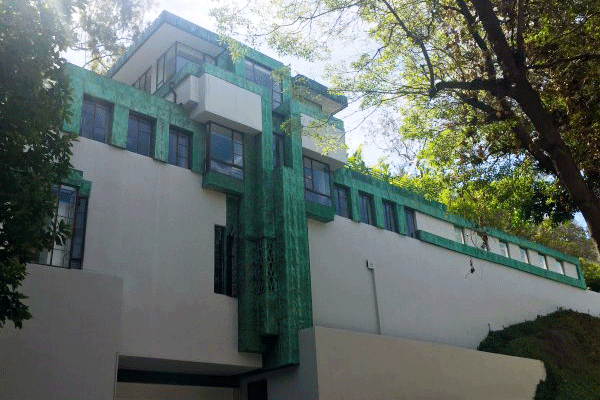 Place
Samuel-Novarro Residence
During the 1930s, gay silent film star Ramon Novarro lived in this dramatic Lloyd Wright-designed hillside residence.
Located in Los Feliz, the Samuel-Novarro Residence was designed by master architect Lloyd Wright for Hollywood manager Louis Samuel and his wife in 1928.
The four-level residence was integrated into the surrounding hillside and distinguished by its smooth concrete surfaces, oxidized copper accents, and horizontal bands of windows. 
Samuel, business manager and personal assistant to silent film star Ramon Novarro, first met Wright through the actor. In 1930, Novarro learned that Samuel had been embezzling money from him, much of which had been lost when the stock market crashed the previous year. Furthermore, Samuel had been using Novarro's earnings to pay the mortgage on his Wright-designed home.
Not wanting to draw attention to his personal life (he identified as non-heterosexual), Novarro assumed ownership of the property as a result of a discreet settlement in 1931. He then commissioned Wright to expand the garden and the interiors, including the addition of a music room, a bedroom suite, and outdoor pergola.
Novarro lived in the residence until the late 1930s.