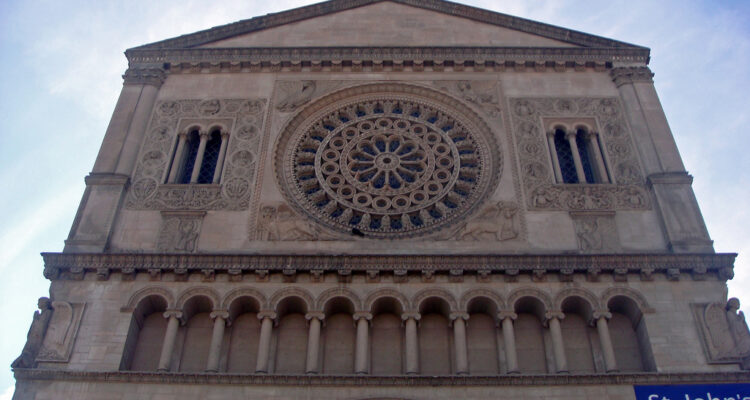 Place
St. John's Cathedral
Completed in 1925, St. John's Cathedral is one of Los Angeles' most monumental examples of Romanesque Revival architecture.
Designed by brothers Walter and Francis Pierpont Davis, St. John's Cathedral is an exceptional example of Romanesque Revival architecture and a reflection of the growth of the Episcopal church in the early twentieth century. 
The original parish was founded in 1890, and a Gothic Revival church was consecrated at the corner of Figueroa and Adams in 1894. By 1920, the congregation had outgrown the existing structure, and the church held a competition to select the architects of the new building. 
The Davis brothers looked to Northern Italy for ecclesiastical precedents, as well as the 11th-century Basilica di San Pietro in Tuscania.
Ground broke on the new St. John's in 1923, and the reinforced concrete building was completed in late 1924. The cornerstone from the original church was incorporated into the new one as a symbol of continuity. St. John's was consecrated the following year and could accommodate 1,100 parishoners within its walls. 
Key exterior features include the arched entry, monumental pediment, bas relief sculpture, loggia, and rose window. The interior is characterized by a grand array of golden-hued mosaics, along with a German triptych, Italian marble altar and columns, and painted wood-beamed ceiling.