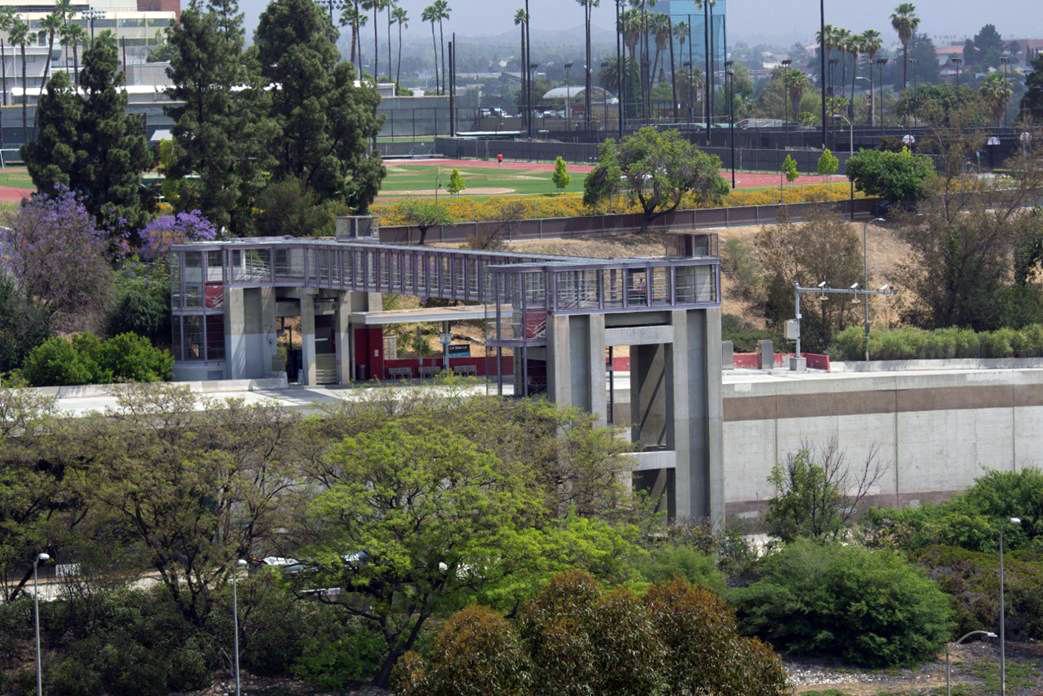 Place
University Bus Station Bridge
A pedestrian overpass that reminds us that Modernism can be applied to things like industrial structures and infrastructure.
Modernism is often most closely associated with architecture, from single-family houses to massive corporate towers, but it's always good to remember its scope extended beyond buildings to include things like industrial structures and infrastructure features.
The University Transit Station pedestrian overpass, also known as the University Bus Station Bridge, is a great reminder of this. Completed in 1975, the overpass spans the El Monte busway and Metrolink tracks to connect California State University Los Angeles with the bus and train station on the other side. It was designed by Anthony J. Lumsden of Daniel, Mann, Johnson and Mendenhall (DMJM) in a Late Modern style with influences of the High Tech style prevalent at that time.
Built of steel and concrete, the bridge is somewhat sculptural in appearance, its massive towers anchoring it at either end and supporting a walkway that looks like a set of steel trusses. The structure's elevators move up and down the outside of the towers, exposing the inner workings of its equipment and providing an interesting movable contrast to the cars whizzing by on the freeway below. Try to take a peek at it next time you're driving along the 10 Freeway—this is a piece of Modern infrastructure that's worth examining.