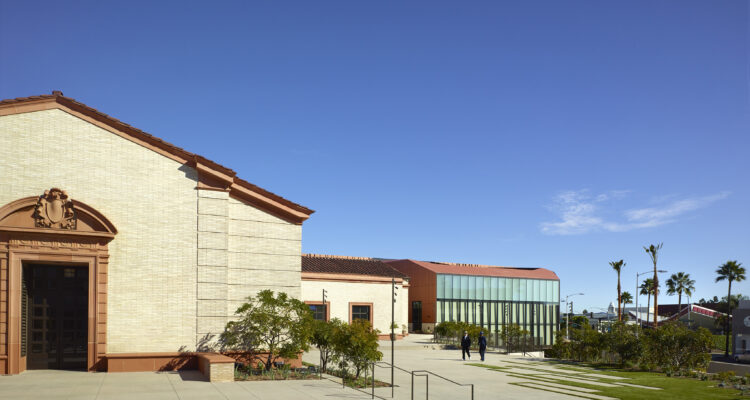 Place
Wallis Annenberg Center for the Performing Arts
A former post office gained new life as part of a vibrant performing arts complex.
The Beverly Hills Post Office (also known as the Crescent Drive Post Office) was part of the original civic center built for the growing young city. Legendary humorist and honorary mayor Will Rogers was credited with securing funding for the building from the federal government, after sending a typically folksy-yet-biting letter to Secretary of the Treasury Andrew Mellon.
Ralph C. Flewelling designed the building with consulting architects Allison and Allison. The building's stately Italian Renaissance Revival exterior leads into a double-height, marble-clad grand lobby. Artist Charles Kassler adorned the upper walls of the lobby with eight WPA fresco murals depicting the creation of the mail service and views of modern life during the Depression.
The building served as a center of daily life for Beverly Hills residents for more than sixty years.
When the U.S. Postal Service's needs outgrew the building, USPS declared it as "surplus property" and offered it for sale to federal, state, and local governments. The nonprofit Beverly Hills Cultural Center Foundation was formed to find a new use for the building as a cultural venue, and the City of Beverly Hills bought the building in 1999.
To transform the site for use as a performing arts center, the project team restored historic elements of the post office building and added a modern annex, connected via tunnel, to house the main 500-seat theatre. The original building received a meticulous repair and restoration, from re-roofing, to restoring the WPA murals, to refurbishing all historic features inside and out.
The team went to great extents to respect the historic building, from sinking the new building low into the site to evoking postal envelopes with the annex's exterior metal screens.
Their great work was recognized with a Conservancy Preservation Award in 2015. Public outdoor spaces on the site connect the center with the surrounding community.
Said Ralph Flewelling in 1934, "We believe the building will grow old gracefully and we sincerely hope and trust that time will add that certain element to make this work of increasing pleasure to the citizens of this community."
He might never have imagined his creation as a performing arts venue, but it does indeed continue its long tradition as a center of civic life and a beloved landmark.