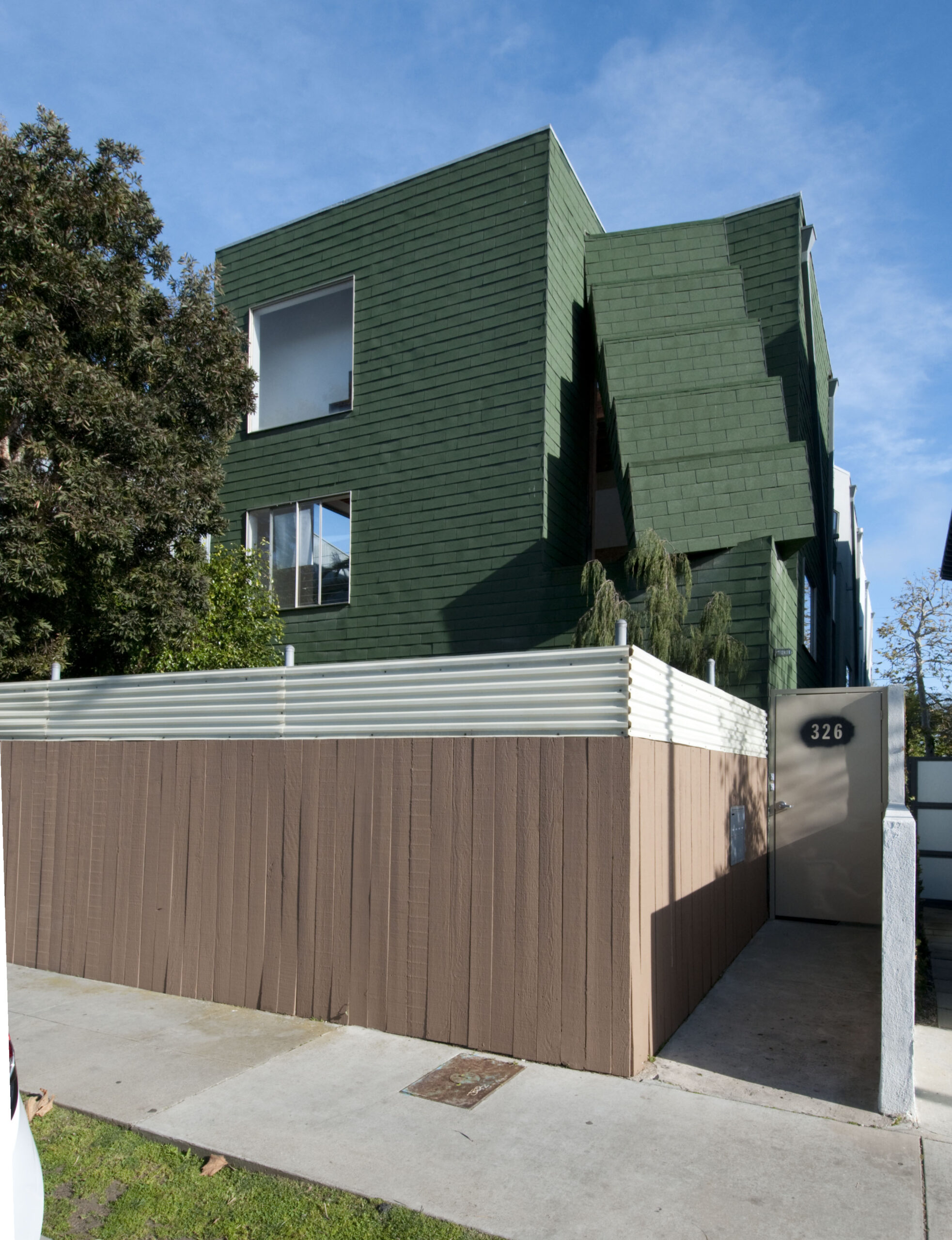 Place
Indiana Avenue Houses/Arnoldi Triplex
The Deconstructivist triplex design features separate, loft-like, two-story units which the architects dubbed "the three little pigs," one in stucco, one in plywood, and one covered head to toe in green asphalt roof shingles.
Architect Frank Gehry has completed multiple designs in the Venice area, several in collaboration with his good friend, artist Charles Arnoldi. The Deconstructivist triplex at 326 Indiana Avenue sprang from the same partnership, with Gehry designing the three free-standing condominiums for Arnoldi and another friend, artist Laddie John Dill. Completed in 1981, the triplex was purchased by actor Dennis Hopper a few years later; he built his corrugated metal fortress next door and used the condos as an office and additional living areas for family.
Gehry's triplex design features separate loft-like two-story units occupying a small urban parcel in close proximity. He and his partners called them "the three little pigs," with one clad in stucco, one clad in plywood, and one covered head to toe in green asphalt roof shingles. The shingled building is the one facing the street, so it features the most exterior detail: its basic shape is similar to that of the other buildings, looking like a stack of boxes with a recessed corner. Its front is punctuated by a diagonally angled volume that steps up the recessed corner like a stairway to nowhere, adding a visual kick to an otherwise fairly simple building with aluminum-framed windows.
The interiors of all three of the buildings are open and flooded with light from large skylights. The Arnoldi Triplex is a strong example of Gehry's early- to mid-career work, and demonstrates his devotion to Venice as a community and as a crux of the 1980s Los Angeles art scene.