Architect
Frank Gehry
Frank Gehry was born Frank Goldberg in Toronto in 1929. As a teen, he worked in his grandparents' hardware store.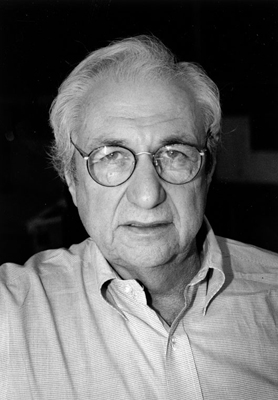 Frank Gehry (born 1929)
Frank Gehry was born Frank Goldberg in Toronto in 1929. As a teen, he worked in his grandparents' hardware store, surrounded by the materials of the building trades such as roofing, fencing, and paint. 
In 1947, his family moved to Los Angeles, where he got a job as a truck driver delivering and installing breakfast nooks. 
At USC, Goldberg studied art under the great ceramist Glen Lukens. Lukens invited him to meet renowned architect Raphael Soriano, who was designing Lukens' home at the time. Their meeting at the Glen Lukens House is credited with helping to focus the future Gehry's studies and career in architecture.
After graduating from the USC School of Architecture, Goldberg changed his name to Gehry. He worked for architect Victor Gruen, was drafted into the army, and spent some time at Harvard. He returned to Los Angeles and launched his own practice in 1962. 
Gehry moved in creative circles, cultivating friendships with Ferus Gallery artists including Billy Al Bengston, Ed Ruscha, and Ed Moses. 
During the 1970s, the press and architectural community named Gehry and a cadre of other young architects—including Eric Owen Moss, Thomas Mayne, and Craig Hodgetts—members of the "L.A. School." Gehry and his cohorts experimented with form and material in unconventional applications. 
His use of common building materials like plywood, chain-link fencing, and corrugated metal at the Gemini G.E.L. studios (1979) and his own residence in Santa Monica (1978) bucked preconceived notions of utility and beauty. By the opening of the California Aerospace Museum (1984), this approach was being lauded by the postmodernists.
His work in the 1980s reflected a growing interest in Deconstructivism and ventures into Sculpturalism. His use and development of computer-aided design software for modeling complex forms anticipated the industry's wider adoption of software for applications outside of drafting.
Gehry's steady stream of commissions in the Southland made his name synonymous with L.A. architecture. Later commissions in New York, Barcelona, Prague, and Berlin make him, arguably, the best-known practicing architect today. 
After sixteen years of design and construction, Gehry's Walt Disney Concert Hall opened in downtown Los Angeles in 2003. Just as with his Guggenheim Museum Bilbao, the concert hall's debut was met with critical acclaim from across the world. The building became an instant landmark and has been credited with helping revitalize downtown.
Gehry has been awarded countless accolades for his work, including the AIA Gold Medal, National Medal of Arts, National Design Award, and 1989's Pritzker Prize, widely considered architecture's highest honor.
Related Places
Place

Indiana Avenue Houses/Arnoldi Triplex
Place

Indiana Avenue Houses/Arnoldi Triplex

Place

Cabrillo Marine Aquarium

Place

Air and Space Gallery, California Science Center