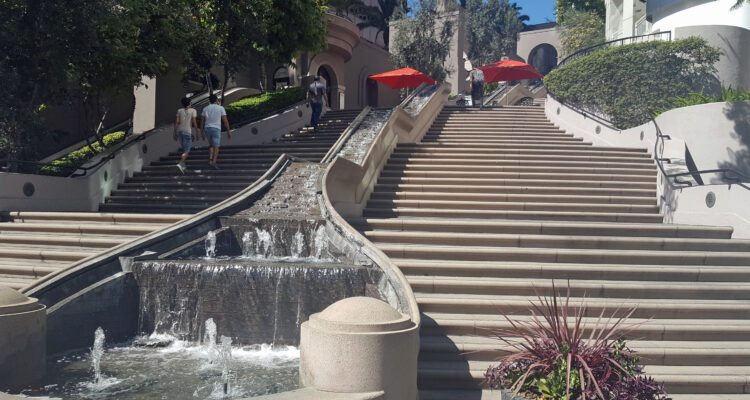 Place
Bunker Hill Steps
The ties between downtown L.A. and its Bunker Hill origins have been tenuous at best. The Bunker Hill Steps, built in 1989, aimed to remedy that.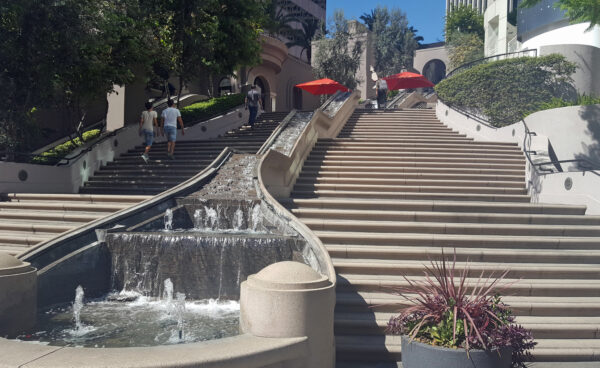 The connection between downtown Los Angeles and Bunker Hill has been tenuous since the widespread demolition of Bunker Hill's early buildings in the 1960s. Since then, new construction has sprouted skyward. Even as the area's density neared pre-redevelopment levels, it never quite seemed to link back up to the older downtown.
The Bunker Hill Steps, cascading from Hope Street down to Fifth Street, are a thoughtful attempt to remedy the situation. Designed by landscape architect Lawrence Halprin and completed in 1990, this massive concrete staircase provides a pedestrian route from Bunker Hill to the Los Angeles Central Library. It passes just to the west of the U.S. Bank Tower and is heavily used by local office workers to negotiate the five-story grade between Fifth and Hope.
The stairway is divided in two by a simulated mountain stream of rock-like concrete forms, its water originating in a round fountain in a plaza at the top and ending in a small basin. Robert Graham's 1992 sculpture of a woman offering the bounty of water stands in the middle of the fountain. The stairway is punctuated by a series of terraces and landings containing small cafes, shops, and dining areas, lending it the feel of an urban street. Flowering trees and other vegetation line the stairway's edges, which curve past artwork and a wall of sculptured grottoes and fountains. An escalator on the west side ensures the pedestrian route is accessible to all.
Halprin likened the role of a landscape architect to that of a choreographer, aiming to guide human movement through the environment in positive ways. As a monumental landscape feature linking two spheres together, his Bunker Hill Steps have proven to be a successful and visually striking path for moving people between old and new Los Angeles.