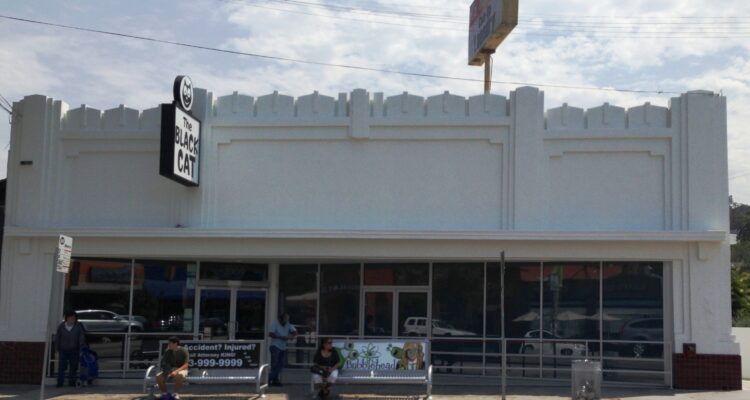 Active
LGBTQ+ Heritage
Despite efforts to document L.A.'s LGBTQ+ heritage, many important sites remain at risk.
Despite efforts to document LGBTQ heritage in Greater Los Angeles, many historic sites are at risk.
Active
Help us preserve the places that tell the rich heritage of LGBTQ+ communities in the Greater L.A. area.
Overview
LBGTQ+ heritage runs deep in Los Angeles. Our City and County have fueled movements for LGBTQ+ freedom and expression for over a century as the home of the country's first openly gay magazine, influential Hollywood actors, early uprisings against police brutality, and the first permitted Pride Parade, and first and largest LGBTQ+ service organization.
The City's LGBT Historic Context Statement, published in 2014 as part of SurveyLA, marked an important step towards recognizing and preserving this history. Buildings like The Black Cat and the Margaret and Harry Hay Residence have been designated as Los Angeles Historic-Cultural Monuments (HCMs) for their associations with important LGBTQ events and people.
Despite growing awareness of these stories, a number of buildings significant to LGBTQ+ communities are at risk or have already been lost.
In 2011, the preservation community and Silver Lake residents were shocked to discover that the building housing the former gay bookstore, A Different Light, was demolished without warning, despite ongoing efforts to designate it as a local landmark.
Many other significant community anchors have been lost before their stories could be fully understood and brought to light. The demolition of Cooper's Donuts, a popular coffee shop in Downtown L.A. within the transgender community, has contributed to the overshadowing of its history. In May 1959, the business was the site of a significant clash between law enforcement and trans men and women, who resisted police harassment and arrest at a time when large numbers of people were imprisoned for "masquerading." The subsequent uprising predated better-known struggles at Compton's Cafeteria in San Francisco, The Black Cat, and the Stonewall Inn in New York.
About This Issue
For over a decade, the Conservancy has been involved in advocating for places with LGBTQ+ heritage, from Plummer Park to the Morris Kight Residence.
Preservation within diverse LGBTQ+ communities poses a number of challenging questions.
How old does something need to be in order to qualify as historically significant, and who decides?
How do we tell stories through places that may evoke painful memories or not be fully understood?
And how do we ensure that all voices and stories are heard, even when they may be at odds with one another?
Read more to learn more about LGBTQ+ places that begin to address these questions.
Significant Nightclubs at Risk
In 2014, Faring Capital, the owner of The Factory, proposed demolishing the industrial building for a new hotel and retail project in West Hollywood. The Factory has a rich history, serving originally as the Mitchell Camera production facility and, from 1975 to 1988, as the site of the iconic gay discotheque Studio One.
This threat landed The Factory on the National Trust for Historic Preservation's 2015 list of America's Eleven Most Endangered Historic Places, in large part due to its LGBTQ history. The West Hollywood Heritage Project is one of the main groups advocating for its preservation.
Hollywood's Circus Disco, established in 1975 as a haven for gay Latinas/os, was demolished in 2016 as part of a major redevelopment underway at Santa Monica Boulevard and Las Palmas Avenue. The club provided its patrons with a strong support system and served as a meeting place for political and social organizing.
The owner of Jewel's Catch One in Los Angeles' Mid-City, regarded as the first large scale nightclub to cater to black members of the LGBTQ community, closed the club in July 2015 and announced plans to sell the building. A new owner purchased the building in November 2015 and the club reopened in January 2016.
Taken together, these three nightclubs tell a critical story about race, gender, class, and sexuality in Los Angeles. Establishments such as Catch One and Circus Disco initially opened their doors in response to rampant discrimination experienced by lesbians and LGBTQ people of color at well-known institutions like Studio One.
These places were more than just bars; they served as vital community centers.
Circus Disco brought activists from broader civil and labor rights movements together with advocates in various LGBTQ communities. The owner of Catch One also opened a neighboring residential HIV/AIDS center for homeless women and children living with the disease. Studio One, despite its exclusionary door policies, played an important role in fundraising for HIV/AIDS research and treatment.
Because none of these three properties has been landmarked, they all lack formal protection from demolition or inappropriate alteration, making proactive efforts to preserve the tangible links to this history all the more critical.
Our Position
Places connected to LBGTQ+ heritage might not be visible at first glance. These important sites of culture adn community often take the form of a windowless bar, or a modest craftsman.
Places that are culturally, rather than architecturally, significant are vulnerable to demolition or excessive alteration before their stories can be fully understood. The work to recognize LGBTQ+ heritage is part of a wider effort to celebrate the places, people and events that together convey our rich cultural heritage.
Los Angeles and other cities in the county have started down the path of embracing the breadth of our heritage. While we have only scratched the surface, it is a journey that the Conservancy fully supports.
How You Can Help
You can make a real difference in the efforts to preserve Los Angeles' LGBTQ heritage! Here's how:
Share Your Story
LGBTQ historic places embody the experiences of the people who lived this dynamic history. Your voices are an essential part of understanding and celebrating this rich heritage, and we want to hear your stories about the people and places that matter to you and your communities.